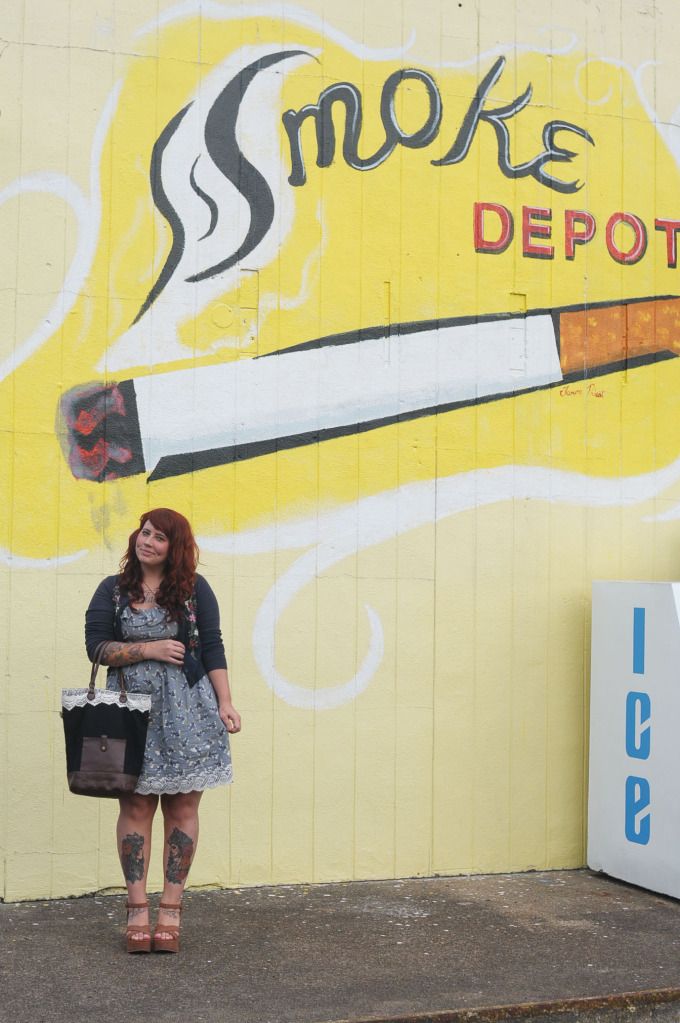 This was my outfit for Monday. Well, for the most part. Halfway through the day I traded my shoes for flats but that was mainly out of convenience. I'm not a super huge fan of driving in heels, just sayin'. If you're at all familiar with East Nashville then you might recognize this backdrop. It's the huge convenience store across the street from Family Wash. I know the cigarette is questionable but I love a good mural in the background. Luckily Monday wasn't sweltering hot, so I could get away with a cardigan. I'm telling you, to go from insane heat and drought to 15 days of straight rain/storms is weird. Can I blame my lack of outfits on that? Because I'm gonna. Also - I've maybe worn this dress like 5 days of the past 7. Don't judge me.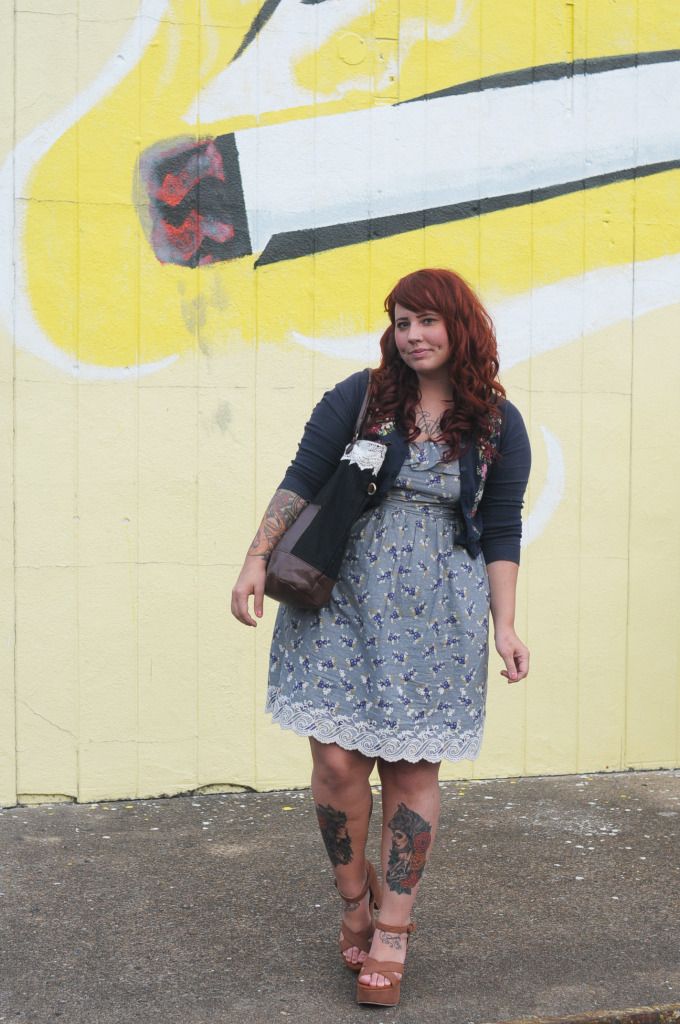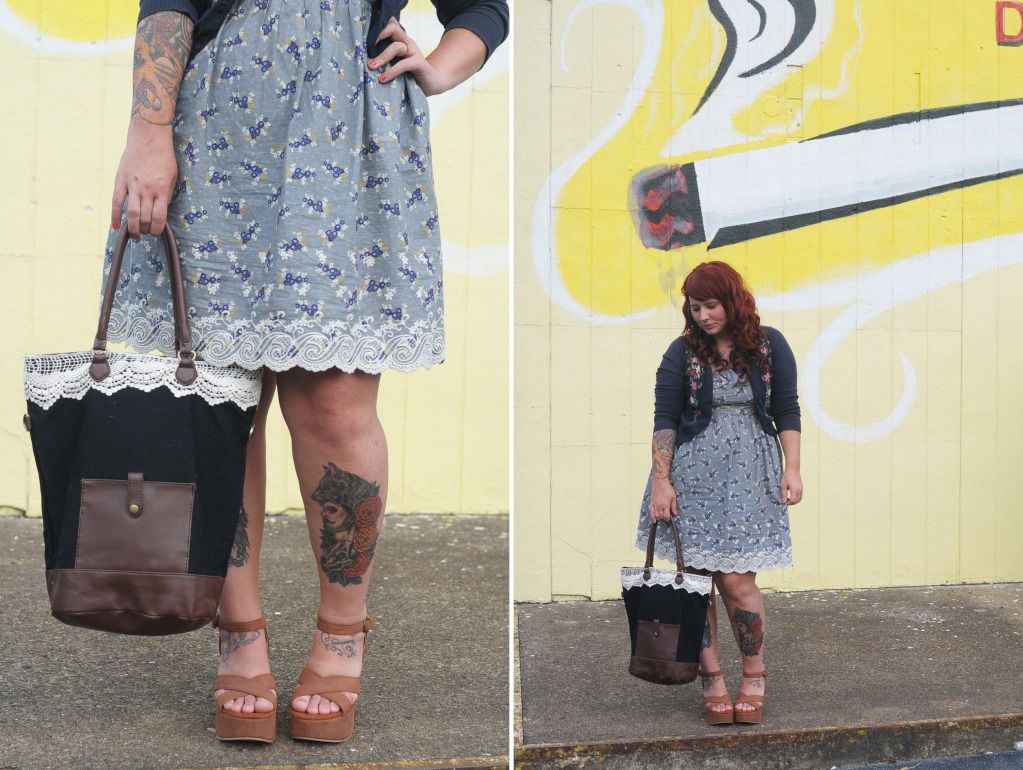 I thought it'd be fun to pair lace on lace with my bag and dress, but it took me until like 5pm to realize that my purse is actually black. Yeah. I went through the day thinking it was navy. You know that whole "Don't pair navy and black" rule? Or the "No black and brown" one? I broke 'em. At the same time. I can think of many instances where it'd look ridiculous but I don't feel like this is one of them so HA. Rule breaker here. I know you're probably all so tired of seeing this cardigan. It's turning into my "black flats of 2010" but I can't help it. It's my favorite.
This dress was a gift last year from
Jen
! (By the way, she just made a super sweet announcement on
her blog
!) I love this dress so much. I seriously wear it far too often but I've only showcased it once on the blog before. I probably wore this cardigan with it then, too. I snagged these Gavina shoes on super sale, and now I have them in red, brown, and grey. I'm one of those people who if I love something, I have it in every color so I can wear it to shreds. They're so comfortable and cute. I'll wear them until the heel literally falls off.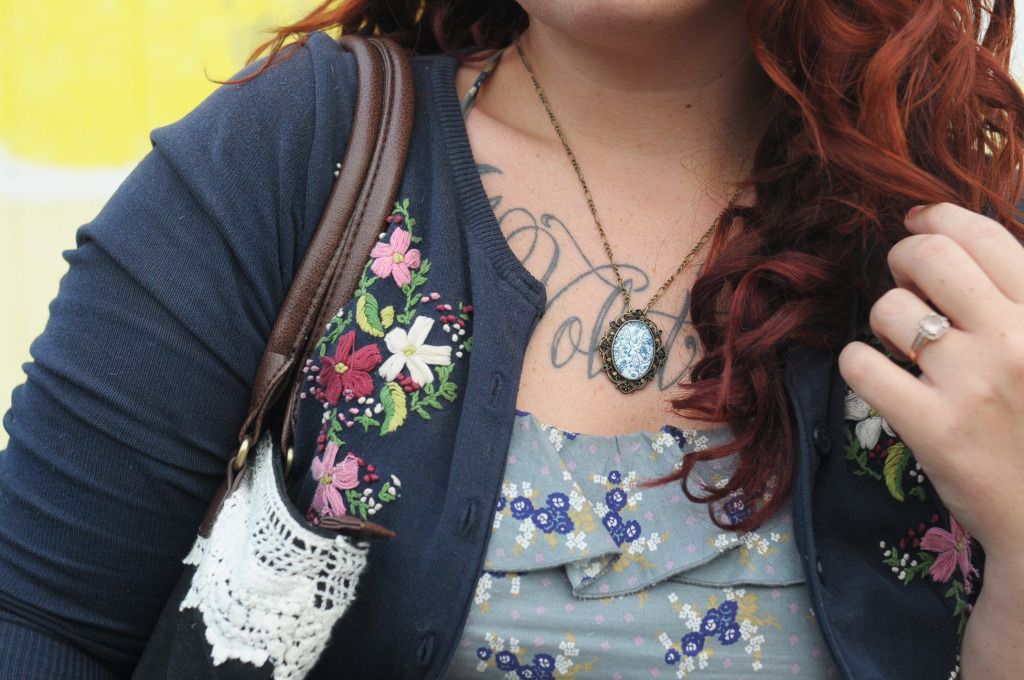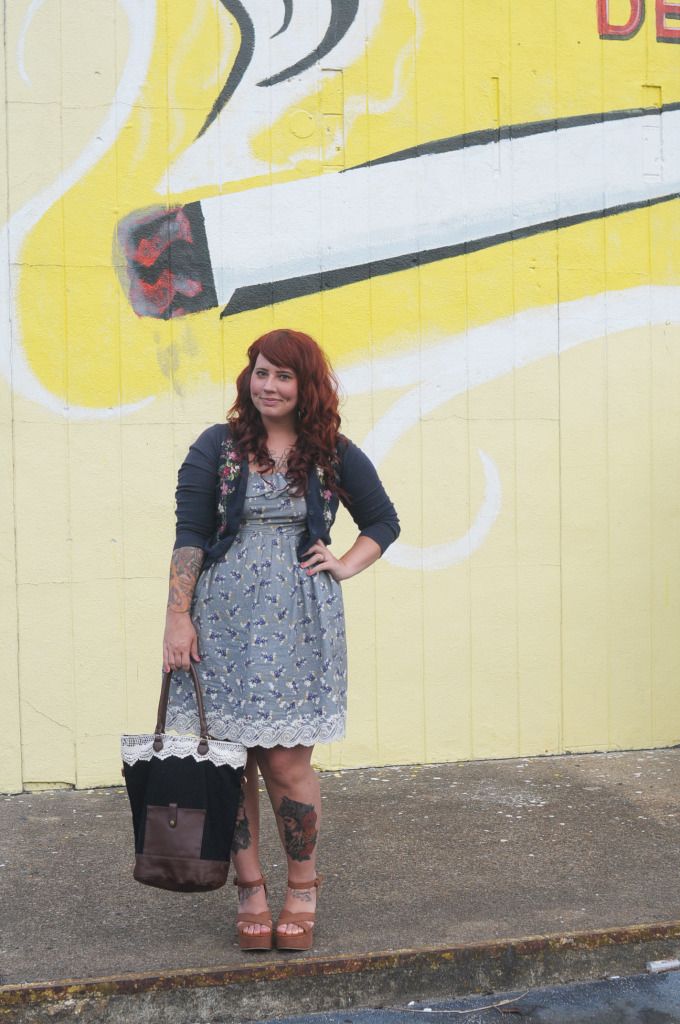 Mid-day on Monday I took a break from working to head over to Marathon Village to check out the space for the new magazine,
Native
. I have to admit - I'm super impressed! The space is beautiful and the magazine even more so. I'm such a paper nerd and the cover was the best texture ever. If you're around town be sure to pick up a copy (or get at me! I have a handful left!) or
check it out online
! I'm sure there are amazing things to come from that mag.
Here's to a productive Wednesday! Hope your day is fab! xo
Dress, gift from Jen
Forever 21 cardigan
Necklace c/o Asian iCandy
Purse c/o Asian iCandy
Blowfish Gavina shoes