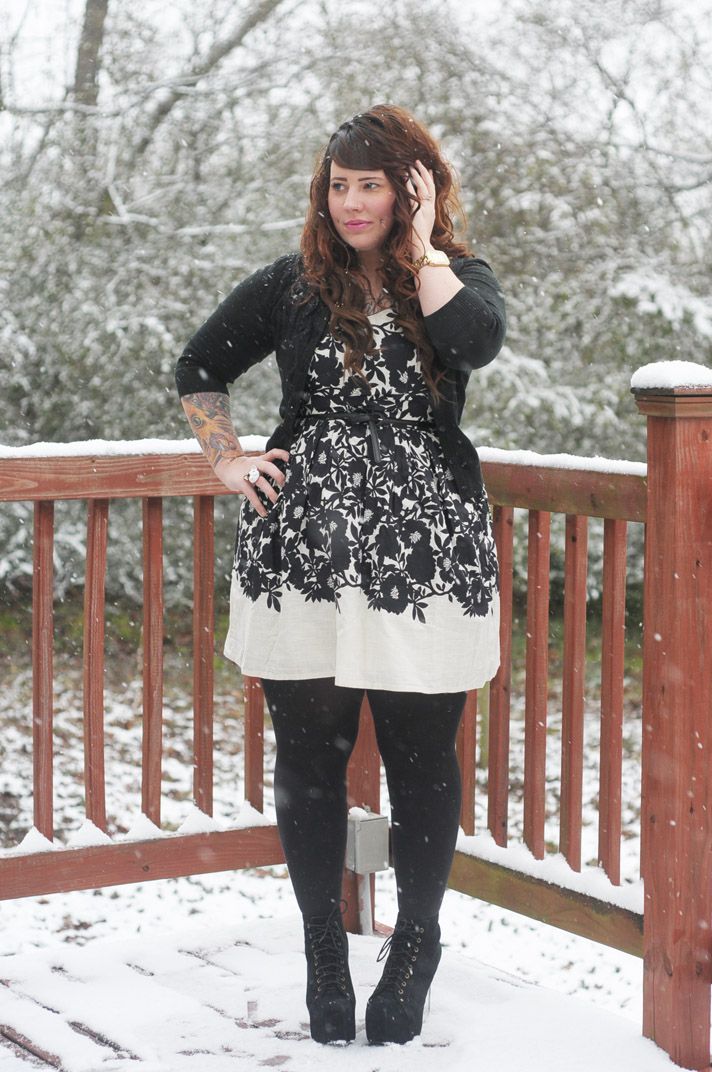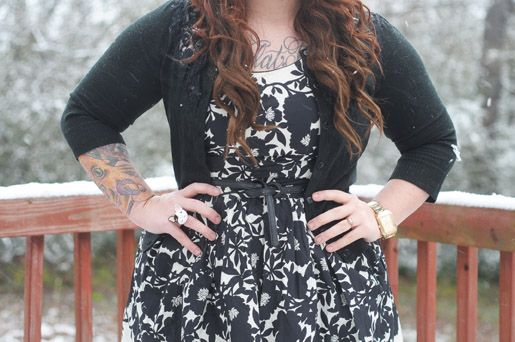 Do y'all know how difficult it is to focus a camera when it's snowing? Surprisingly hard! haha Over half of the photos we had from this outfit were out of focus due to one tiny little snowflake falling in front of me. This outfit is one that I actually wore when it was
not
snowing, but we didn't have time to photograph it so we finally shot a few outfits over the weekend (That's probably like cheating in the fashion blogging world...). It makes it look like Tennessee gets way more snow than we actually do. I picked up this dress at Charlotte Russe the other weekend when Mike and I killed some time at Opry Mills. I loved the black floral silhouette against the cream fabric. I decided to pair it with my new
Jeffrey Campbell "Dina" boots
(with a clear acrylic heel!
Click here for a better picture
!) Probably not the best idea to wear suede shoes in the snow, but it was only for a minute on the deck haha (Peep the shoe print it leaves down at the bottom of the post! So fun!) The shoes are insanely comfortable and so easy to walk in, too!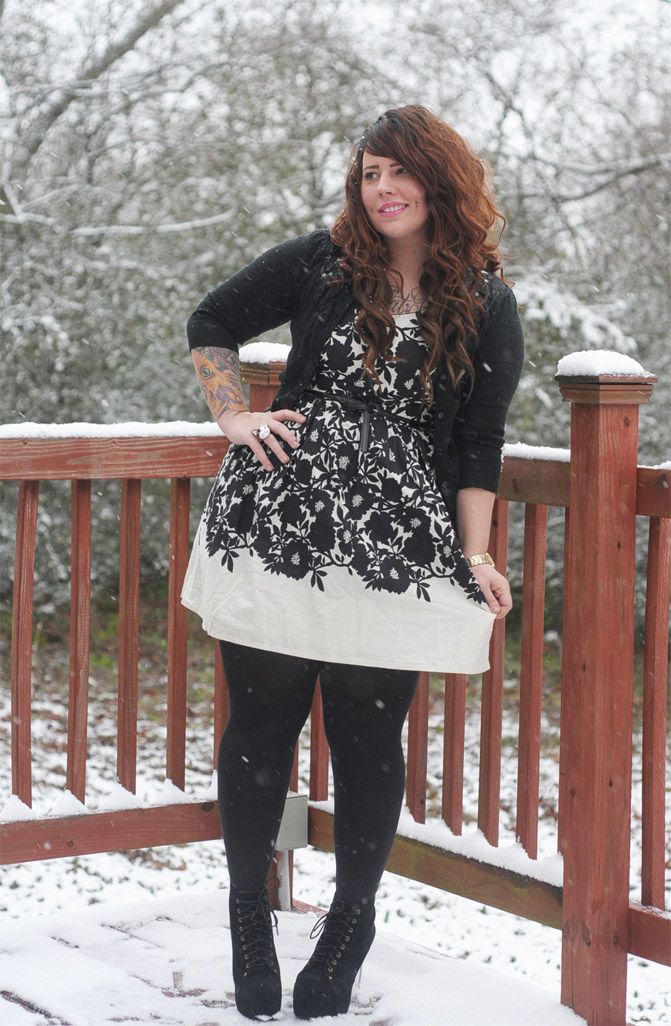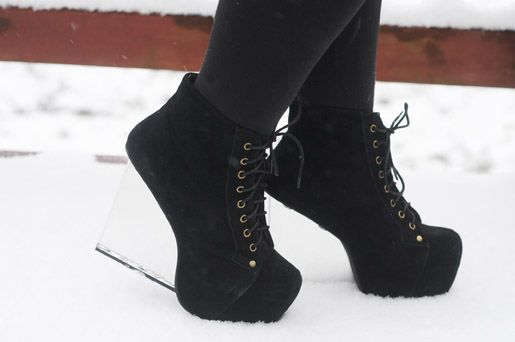 As Mike was shooting the "details" of this outfit, I worked up a little snowball and let it fly. I had no idea I had such good aim, but he was definitely caught off guard. (Don't worry, he retaliated) I couldn't help but snap a couple of extra pictures of the snow around the yard, too. It's such a rare treat here that I needed to really capture the moment ha. The holly bush off of our front porch looks so pretty with the snow, but that thing will catch you off guard if you're not paying attention! Sharp! // Today Mike and I are trying to lay out a daily schedule for work, and we're wrangling up dozens (and dozens!) of items to upload to Kaelah's Closet. Question: Would you (as a buyer) prefer us to list it on an e-commerce site or flash sale on Instagram? I polled some friends on Twitter and it seems most are requesting e-commerce shop.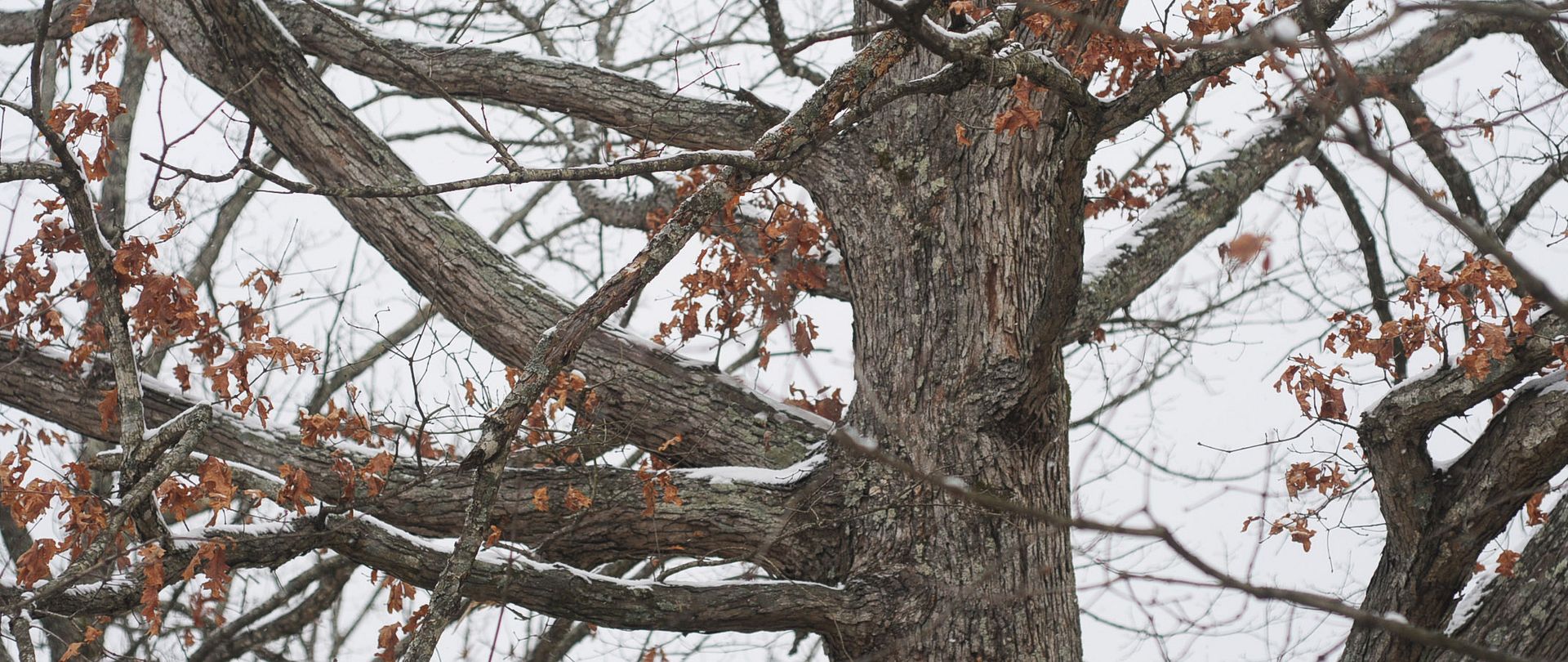 I'm working on tomorrow's TiLT post today, so if you have written or read anything awesome lately, I'd love for you to leave a link in the comments! (Of course I'll credit you if it makes the cut!) I feel like the past couple of weeks have been so boring for us (and probably for you as an LCH reader haha) We haven't quite found our groove yet in our new surroundings so we're trying to get our mojo back. This weekend we'll be scouting a location in Brentwood for an engagement shoot we have coming up. We're so excited to be back in the saddle with photo work. It feels so rewarding when we get our film processed. I know we'll get to work with so many amazing couples and families this year! If you're in the market for any photography this coming season,
give us a shout
!
Charlotte Russe dress
Charlotte Russe cardigan
Assets by Spanx tights