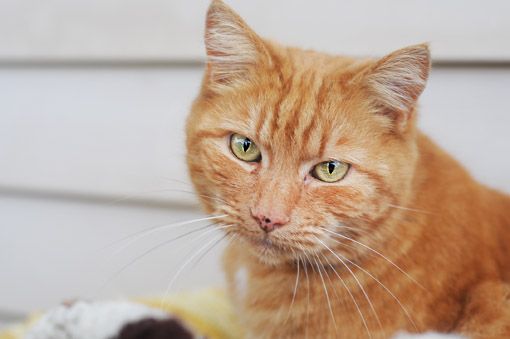 Everyone, please meet Tater Tot! She's the newest addition to the Flynn family. I debuted her on Instagram last week but here's a proper photo. When we started renovating the house we kept noticing a cat that would scurry to leave once we pulled into the driveway. We knew the person who lived here before us must have had a cat because there was a food bowl left out on the deck. (Seriously, I think it's pretty crappy that anyone would move and leave their pet.. who does that?!) It took weeks before we got a decent look at the cat. We assumed it was probably a neighbor's cat or something. One day when we were at the house really early, we heard the loudest meowing ever. I sat down on the deck once I saw the cat and called it over, thinking that there was no way it'd come to me. Surprisingly the cat had no reservations. Not even kidding, two seconds into petting it and I knew it'd stick around.
Enid wasn't at the new house yet so we didn't have any cat food there. We ran to the store a little bit later and left some out to feed the orange cat. You'd seriously think this cat hadn't eaten in months. Of course when you feed a stray, the stray stays. At this point I exclaimed that I'd call it Tater Tot (I still had no idea what sex the cat was). Mike thought I was being ridiculous (he claims to not be a cat person), but of course he's taken to Tater Tot and he totally adores Enid.
After sharing TTs picture on Instagram, I was told some pretty interesting facts about orange cats. Apparently 80% of orange cats are male (!!!) and they're one of the most vocal breeds of cat. I can absolutely attest to the latter part of that. And we totally invaded her privacy long enough to find out that she is actually female. We've got a lot of lady pets haha
She's such a beautiful cat! She wants so badly to come inside, and she's even walked into the kitchen twice, but she immediately turns around and bolts. She's a little skiddish of Pipkin because Pip is a bit high energy, but she'll nuzzle up past Georgia when G passes. Enid doesn't really want anything to do with her, but Tater Tot tries anyway. I'm excited to see how everyone takes to one another once she gets fully settled in.
Mike and I are going to build her (and Enid) an outdoor house with cat tree so maybe I'll share that process on here. Enid likes to be an indoor cat in the winter, but outdoor once the weather breaks. To be honest she just loves sleeping at the foot of Toby's bed. I made Tater Tot a big blanket bed outside and she sleeps in it every night (!!!) but I'm hopeful she'll work her way inside, too (at least partially).
Since we feed Tater Tot outside, we also indirectly feed 2 or 3 other stray cats. There's another Maine Coon and a Russian Blue who snacks on Tate's food. I don't have the heart to run them off, but we're not 100% sure how to handle it. I don't have the heart to turn away an animal that's hungry, but I also don't want 5 cats haha! Any advice?
We basically have a circus now. I'm kind of excited.