Today I thought I'd round up a handful of projects from the last several weeks to share. Trying to juggle design work on top of moving and renovating was a bit difficult, but I'm glad to be back in the groove. I was surprised how busy I stayed with design work over the holidays, especially when I was considering scaling back to rehash all of my ideas. I'm still in the phase (aren't I always?!) but I have a more clear-cut vision of what it'll entail, and of course I'll be sharing that before too terribly long. (I always seem to have something to unveil... I promise it's not that exciting haha) Anyway, here's what I've been up to: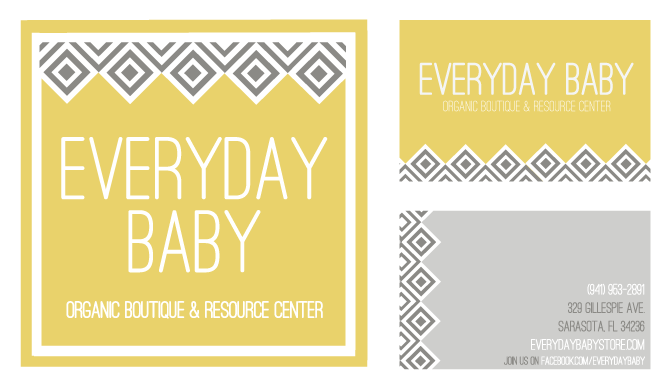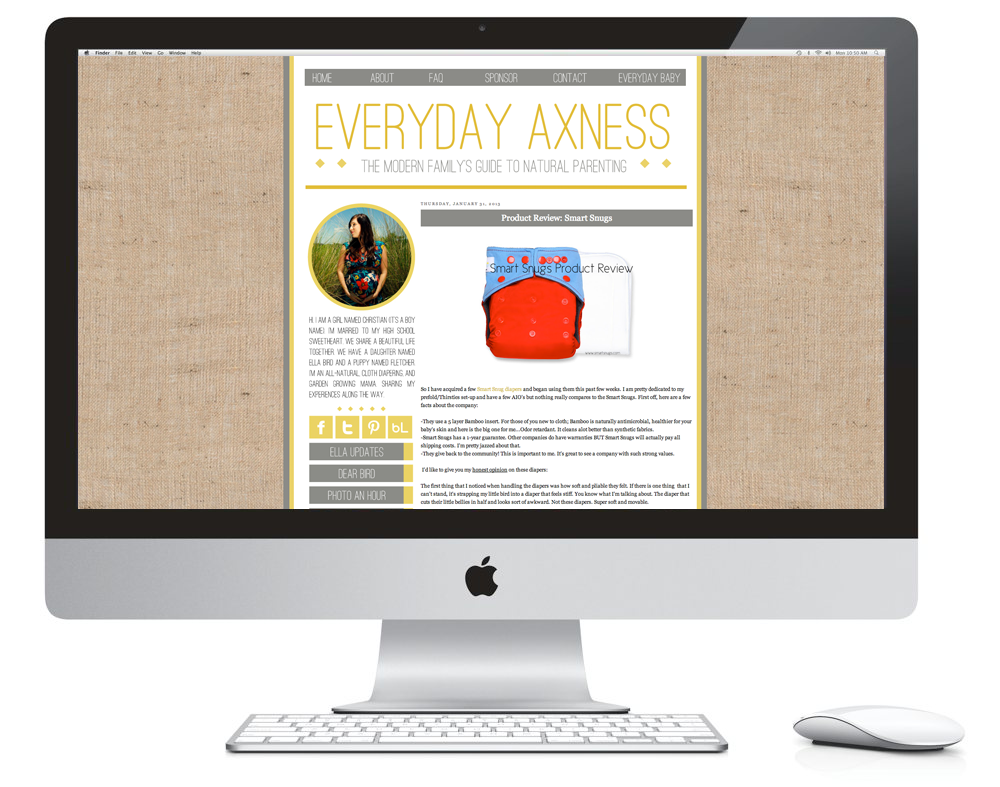 EVERYDAY BABY + EVERYDAY AXNESS
[brand identity + print + blog overhaul]
I worked on a blog overhaul of Christian back around the holidays. She wanted to really focus on organic textures and have a "natural" feel about her blog while still keeping it really simple. She really liked clean, thin typefaces and wanted to have a large content area. This is what ended up coming of that. She's currently in the midst of opening an organic baby boutique and I was honored to play a role in the brand identity portion. She wanted something that was cohesive with her blog, but could stand on it's own. Since Everyday Baby didn't have a mark of any sort, we decided to play up the geometrics of her header in a slightly more graphic manner. The logo will also be a 2'x2' exterior sign on the storefront. The two pieces on the top right side are her business cards. I can totally see the graphic pattern being used on tissue paper and hang tags for the store. I'm really excited to see what comes of Christian's venture!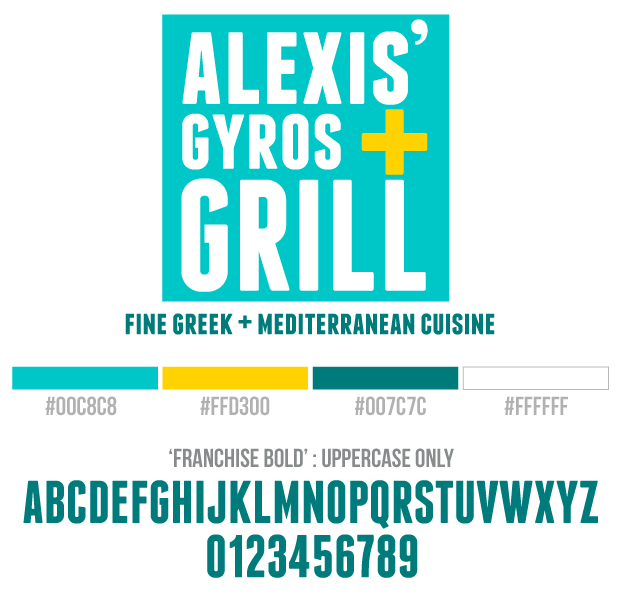 ALEXIS' GYROS + GRILL
[brand identity]
Alexis first contacted me about a blog overhaul, but then decided to put it on the back burner to focus on her new foray into the food truck world. She's also the one who inspired me to give gyros a go! (We still haven't ventured over since the good places are so far away, but it's on the schedule!) The initial logo we had worked on a bit was totally different from this one -- more of a detailed badge style. Once I sent over this more modern, upscale mock, we had a hard time deciding what would be a better fit for a food truck like hers. In the end, she opted for the more clean-cut look with the bold colors, playing up the square edges and the intersecting lines of yellow mark. I can't wait to see how it translates onto the truck!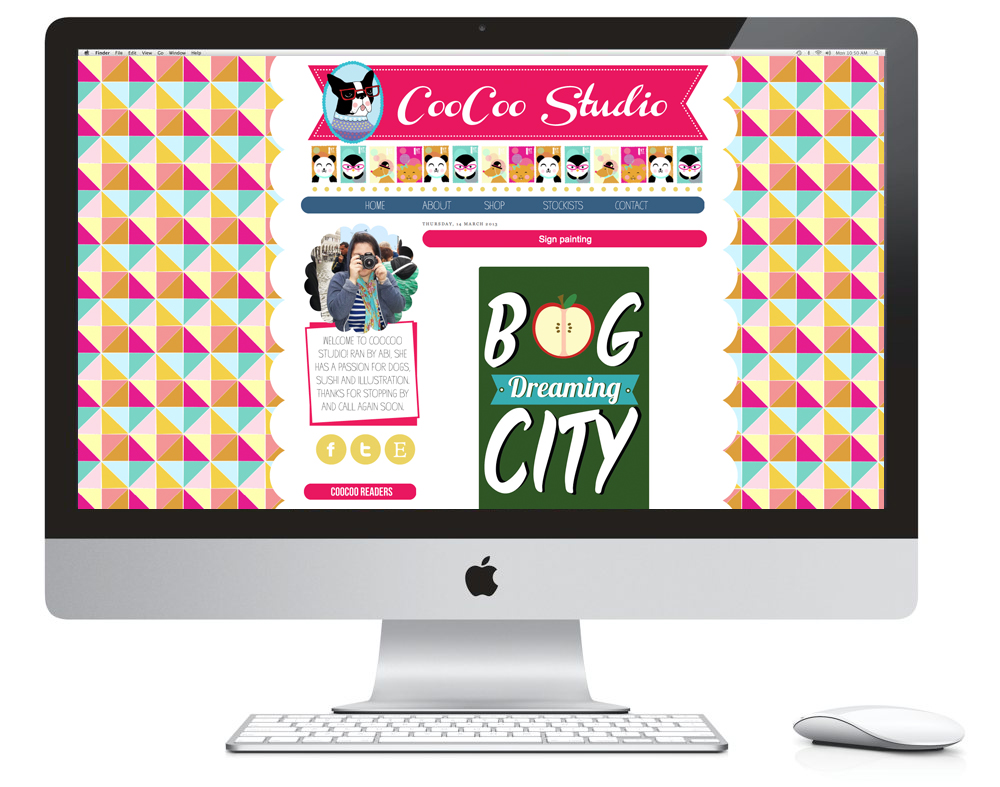 COOCOO STUDIO
[blog overhaul]
Abi's blog was such a treat to do! I'm a fan of color, but this girl lives for color! I don't think I would have ever thought to propose such a wild and playful background, but that was all her doing. She knew what she wanted and I was just there to fill in the little pieces along the way. Abi's illustrations are so lively and sweet. She wanted to really show that in her header, so we did just that. She wanted to keep the rest of it pretty minimal, but she had to have the scalloped edges. I think if you were to pay her blog a visit, you'd see just how perfectly it fits her style.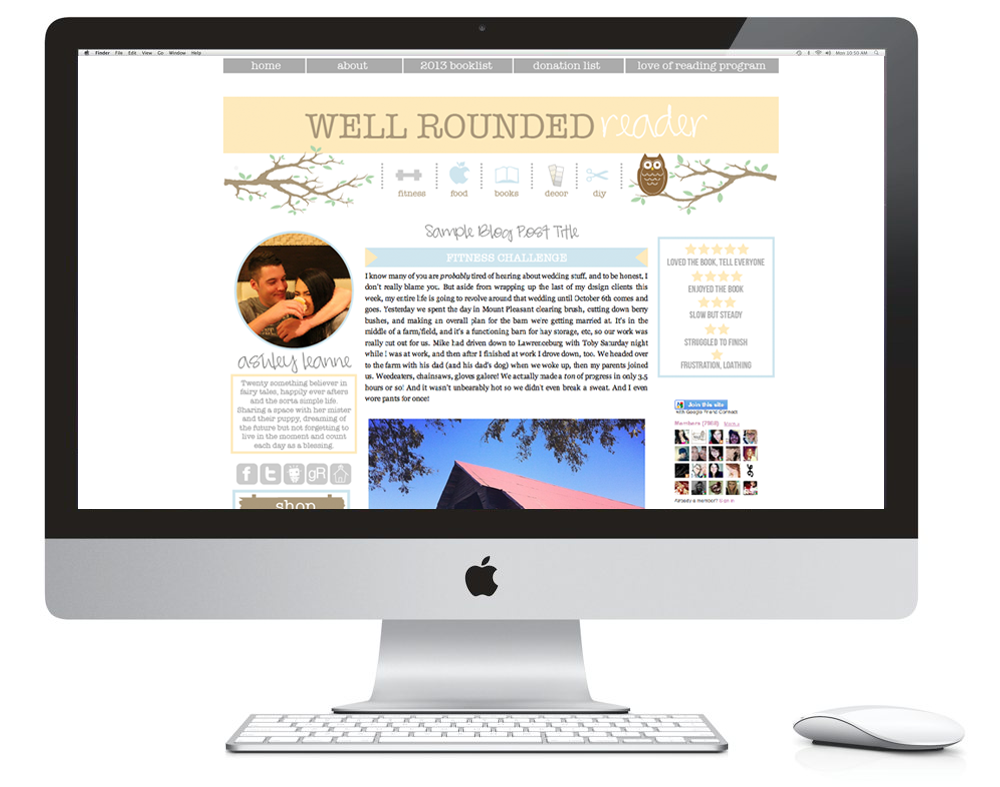 WELL ROUNDED READER
[blog overhaul]
Ashley's blog design was fun to do because of the details she wanted to incorporate. The branches, the owl, multiple navigations and the prominent rating system for her book reviews. She wanted to focus on keeping the colors muted, but still happy. It's the perfect chilled atmosphere to feel relaxed when you're reading about... well, reading!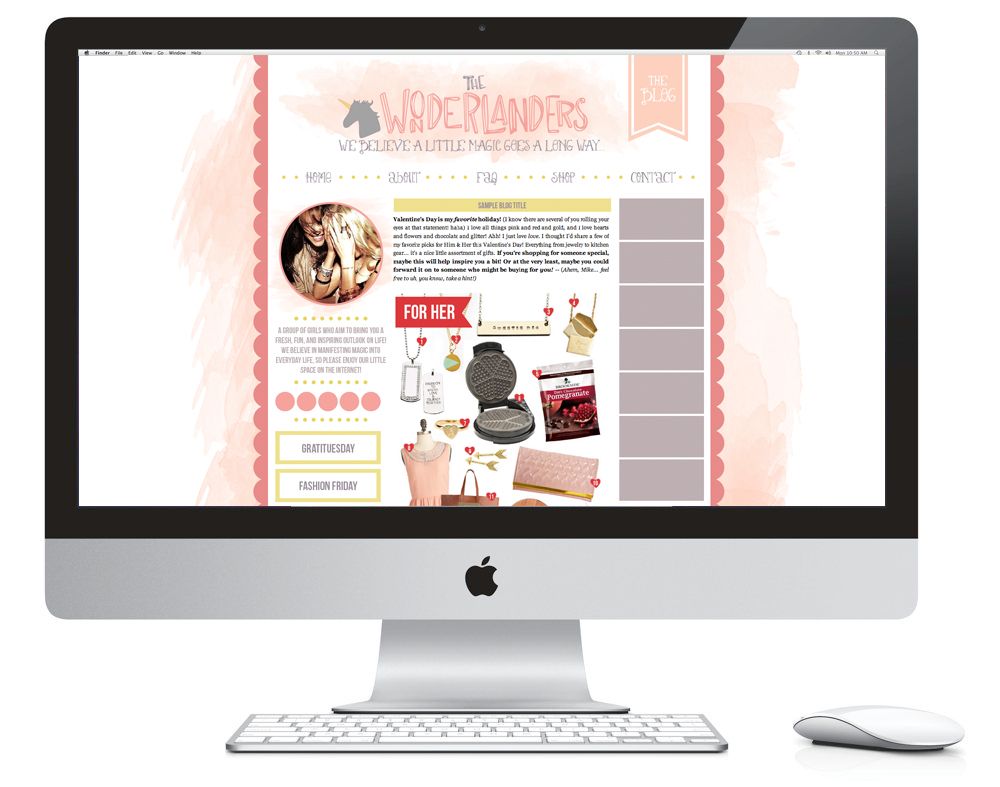 THE WONDERLANDERS
[brand identity + blog overhaul]
Emilie is an old LiveJournal pal of mine and she is currently getting ready to launch a new online boutique for women and she wanted both a logo and a blog to set the stage. Above is the blog design mock (currently being installed + filled with original content). Emilie likes to play up the whimsical side of things and opted for a crown mark for the logo, and a unicorn for the blog. She was fond of the hand-drawn letters I made for one of my past blog designs so I tweaked it and used it for the header. She also liked the lightness of the watercolors because it still provides a little bit of gravity behind the content area. I think my favorite part is the buttery yellow color that acts as an element of surprise against the rest of the mauves and pinks. I'm excited to see how this one fully comes alive once it's launched! I definitely want to do more work with watercolors.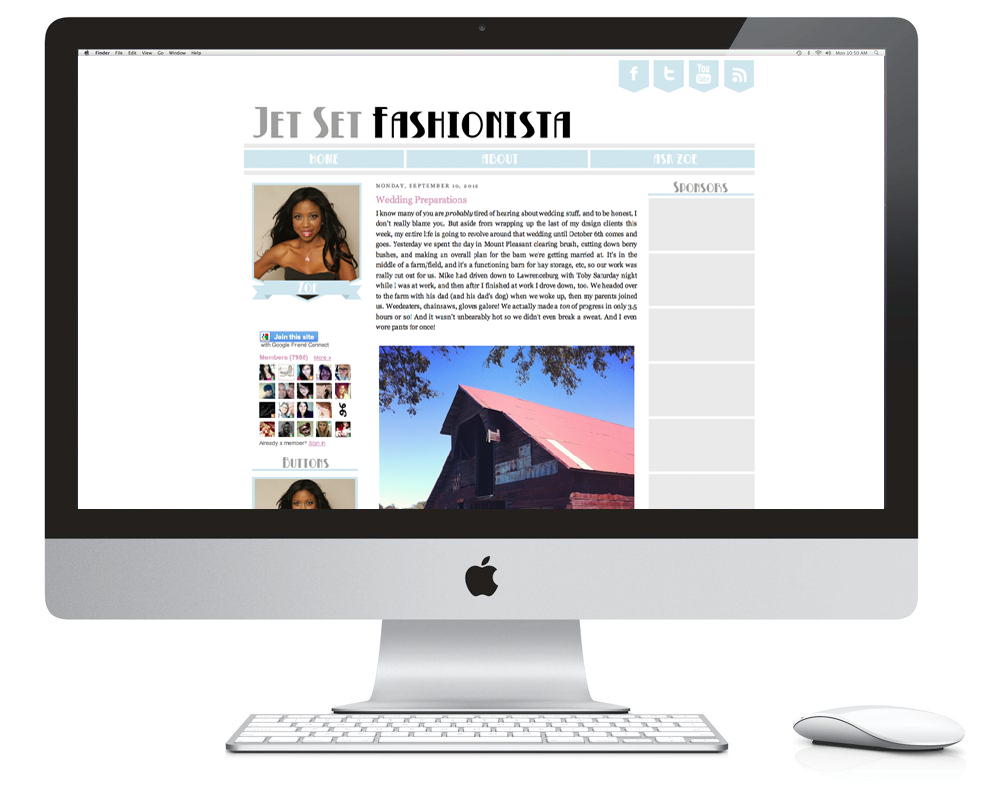 JET SET FASHIONISTA
[semi-blog facelift]
Zoe wanted a fresh slate to launch her new blog, but didn't want to go hard and heavy with all of the bells and whistles. She opted for a half-package which included enough visual perks to lay out the land, but also gave her enough breathing room to grow into something naturally. She was very certain that she wanted a very clean, minimal look so that her content could really shine.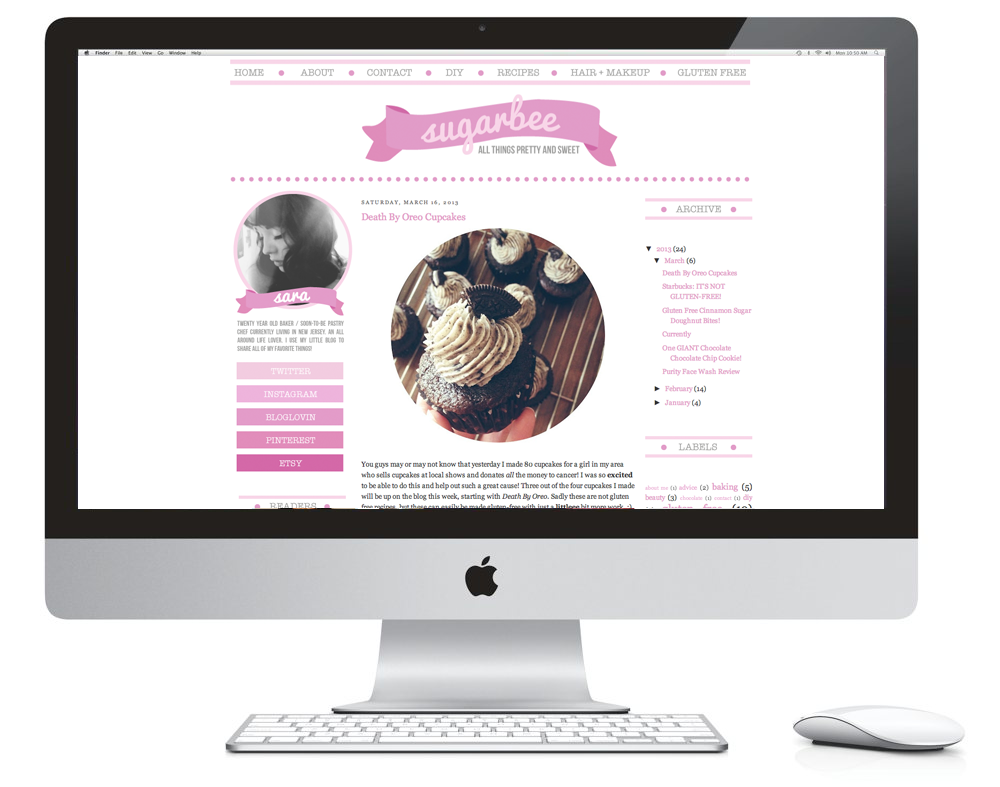 SUGARBEE
[blog overhaul]
Sara's blog was one of my favorite ones to do simply based on the colors and the visuals. She's a 20 year old pastry chef who documents her foodie adventures on her blog. I'm a sucker for ombre sidebar navigations so I'm glad she was into that as well. She doesn't like a cluttered sidebar so the outer columns remain light and airy. Her sharable blog buttons are some of my favorites just because they're happy buttons. Not even sure that makes sense, but the vibe of the whole thing is so great. She's such a sweet gal, too!
Overall I've been really happy with the clients I've had lately. I've been itching to do more identity work and print, too, but I'm just happy when I get to work with people who jive with my style. (Yes, I totally said jive. I know.) Sometimes the overly-cutesy stuff can be a real turn-off for some, but I like that blog and identity work allow me to balance the two. Each and every designer clearly has his/her own style, and a good designer can adapt to suit the desires of the client, but it's great when someone seeks you out because they feel like what you do speaks to them in some way. You can't be everyone's cup of tea but the best kind of work is the kind you enjoy!
With that being said,
I'm wrapping up my last open project today and I'd love to work with some of y'all if you're on the hunt for blog facelift, identity for your indie biz, or even just some blogging business cards!
I've revamped my offerings and I'm happy to custom tailor packages to suit whatever needs you may have.
If you're up to chat, shoot me an email
[
kaelahbee at gmail dot com
]! I'd love to hear from you! Hope you have a great week!
PS; Some of the showcases above are the mock sites - they have placeholder blog posts and sidebar content to show the design's intention.
PPS; I get quite a few emails re: freelance design, and small biz owning in general. I was thinking of doing a blog post (or series) dedicated to answering these. If you have anything specific you'd like to ask, please feel free to leave it in the comments. You can always email it to me, or leave it on my FormSpring (I know, so 2009) if you'd prefer to be anonymous. I'm certainly no expert, and probably not all that qualified to be giving advice, but I can speak from my personal experience!