It's been a while since I've shared a
Stitch Fix
haul, so I thought it'd be the perfect opportunity to dish on my two most recent Fixes since they were both major hits. I've been using
Stitch Fix
for
just
over a year now and this most recent fix was #23 (I think?) -- basically meaning I've been getting one on the regular every 2 weeks or so. Usually I'm a bit too busy to photograph all of the boxes before I send back the "No" items, but I love when a Fix is so perfect, I keep the whole kit 'n kaboodle.
For those who don't know - StitchFix is a clothing subscription company that sends you a box of 5 items that fit your style, your schedule and your budget.
I'm a frugal gal so I subscribe to the lowest price point. I've received things from $25 jewelry to $100 dresses. That might sound high, but I'm also very specific in my questionnaire. Over time SF gets to know you and your style, and your Fixes become more personalized. It's just a $20 fee to get a box, but if you keep
anything
from your Fix, that $20 gets applied to the purchase price! If you keep all 5 items, you get a hefty 25% discount (More often than not, that covers the price of one or two things you may not have totally loved. Then you can just regift, sell, etc) Anything that you don't like, you just pop it into the pre-paid envelope they send along and drop it in the nearest USPS blue bin to send back. You don't get charged for anything you don't keep! The very best part is that you get to try the items on with your existing wardrobe. You can't cart all of your closet to the mall with you, so this definitely has it's perks. Plus we now live lightyears away from any reputable malls! haha
My last 2 Fixes were awesome!
The one before last (#22) was a total keeper. All 5 items below were in there and they were total hits. I loved them so much I tweeted out to
Stitch Fix
to thank my stylist (Margaret) and I immediately requested her for my following Fix. I love that you can customize your Fix like that. If you really really love a stylist that you get, ask for them again! Want a fresh pair of eyes? Just say the word! Anyway - here are the 5 items from Fix #22 --
This navy dress was probably my favorite thing in this fix. It's sturdy but lightweight, and it reminded me of a tennis dress or something. I loved the racerback detail and the piping, too. This is totally a dress I'd own in many many colors!
I'm a huge fan of Willow & Clay thanks to Stitch Fix. I have so many W&C dresses now, and this one is just the cherry on top. I really didn't expect to like it when I opened the box because of the sleeves. Normally sleeves are just "meh" on me but this was a total homerun. The print is fun, too :)
This is the only dress in the Fix that didn't 100% fit. It fit... just not in the most flattering fashion. It's a bit tight in the hip section (and by a bit I mean quite a bit haha). I absolutely love the print - it reminds me of cotton candy! (Hmm, maybe a reason for it not fitting? haha) Luckily the 25% discount more than covered the cost of this dress so I'll either gift it to someone or pop it into Kaelah's Closet. It's the perfect dress for Spring!
This was Mike's favorite out of the bunch. Similar to the racerback dress, it is a sturdy yet lightweight material. It came with a nautical/rope belt but the belt was entirely too small for the dress. (I don't get that?! The dress fit like a glove, but the belt was just not happening. Shame, as the belt was really cute!) I really like the way the stripes meet in a chevron type manner in the front of the skirt. I'm a fan of this LOST brand - I had never heard of them before!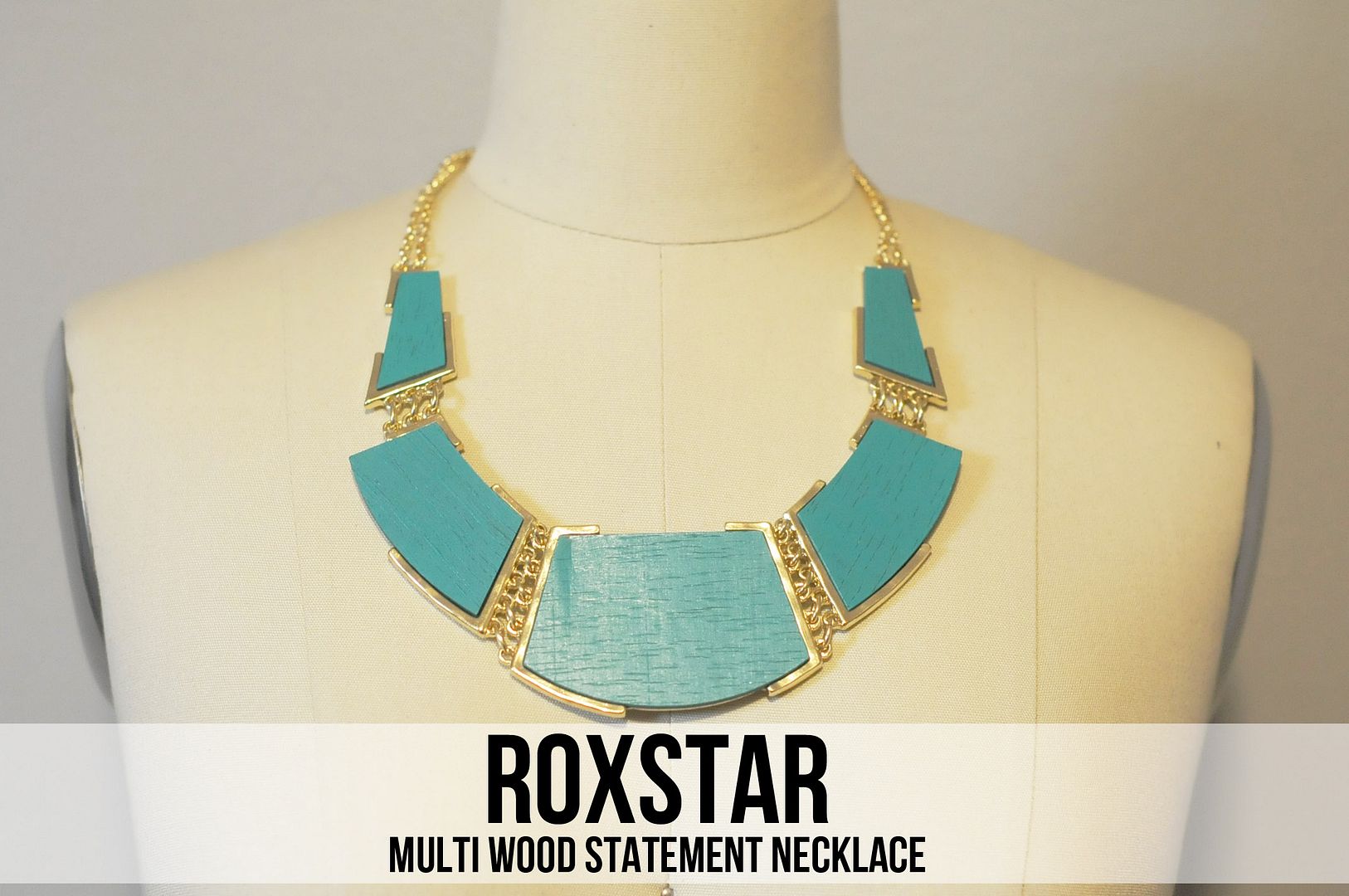 This necklace is totally out of my comfort zone normally. All the more reason to give it a go! The 25% discount covered most of this necklace too, because I was on the fence about it. I think I kind of love it now. I have to find the perfect outfit to pair it with, but I think I'll be pleasantly surprised!
These last 2 items were from Fix #23. I actually liked all 4 dresses (and the necklace) they sent, but I have an issue with length. Seriously, I'm 5'2... you'd think length wouldn't be a problem!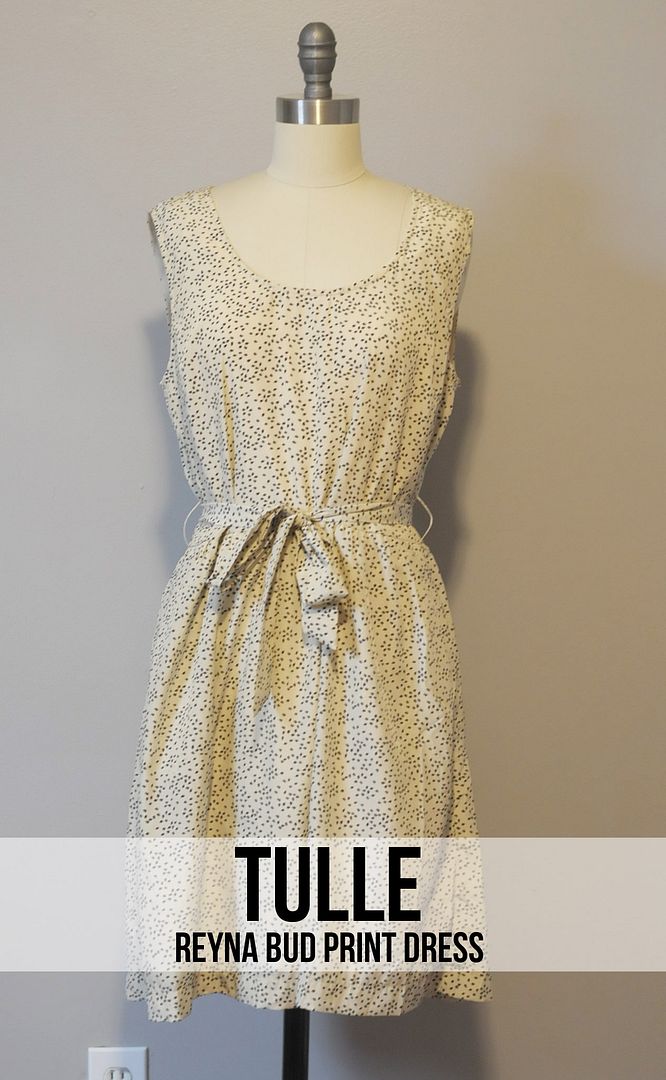 I really really love Tulle, and this bud print dress is so perfect for spring.
The silky material feels so soft, too! I think it'd be super cute with a really bright cardigan, and some sandals!
This Angie dress was a nice surprise. I actually hate shoulders/armholes like this, but normally I just tuck them under or wear a cardigan over it anyway. I feel like they're not very flattering to fuller arms, but the print and feel of the dress definitely swayed me over. I think the brown belt with the bright blue is a nice touch as well.
Overall - as usual - I'm super stoked on my Fixes.
I've got another one scheduled for the very end of the month and I requested that my stylist focus more on longer lengths, if possible. The SF inventory is always something new so it's a fun gamble to see what's available and how you can make it work. To be honest, I wouldn't know of/wear any of these brands if it weren't for
Stitch Fix
. I don't typically shop at department stores where these lines are typically carried, and I love how it opens my eyes to what could work for me out there. If you want to sign up for your own Fix,
feel free to get on the list
! I'm amazed that I still love it as much as I do -- typically I pick something to obsessively love then I fall off the wagon after a bit haha
Have you tried StitchFix? What's your verdict?