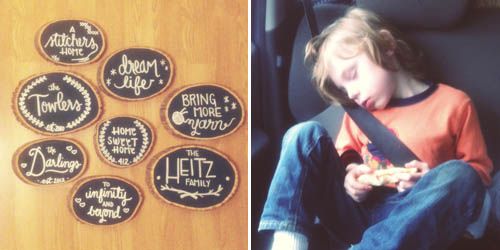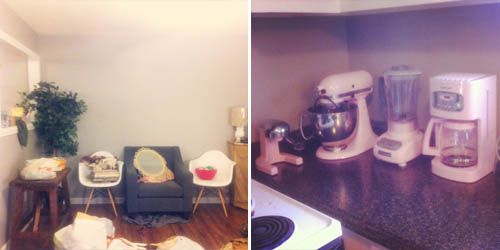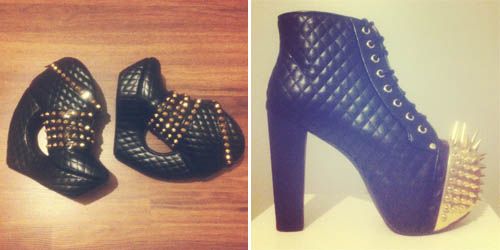 [ Georgia and Saturday morning coffee in bed // Couch squisher // Mangosteen Green Tea + Honey for an all-of-a-sudden cold // Pretty new $9 flats // A round of custom signs going out the door // Toby fell asleep mid-pizza slice (tuckered out from the move... and yes, we were eating pizza in the car ha) // Kitchen renovations 1 + 2 -- our kitchen feels so big! // My office is coming along nicely... // Lack of furniture in the living room (we moved in our old couch until we buy a new one) // So many pink kitchen appliances // New shoes galore! (both of these are Jeffrey Campbell!) // Husband's cute booty while fixing a leaky pipe // Got Mike a guitar shaped house key "just because" // Hall view to the bathroom + my office // Couch cuddles with my little // Valentine donuts are the best donuts // A pretty wedding gift surprise from Emilie // Our dream diner booth kitchenette! Totally going to open up my own "at home" soda shoppe! ]
Renovations are going well. We're finally in the "cleaning" stage and we're trying to make our home livable. The cabinets still lack painted doors, not to mention all of the interior (and exterior!) doors need to be painted in the house. We have so much furniture we need to build and we've hung nothing on the walls... I hate that limbo you go through when you're "moved in but still not quite moved in". It's fun to find a new home for everything but it's also exhausting.
Today I'm trying to battle off a cold that came out of nowhere yesterday. I'd love to say I was planning on being super productive in preparation for the work week, but NCIS and a blanket on the couch sure does sound appealing... I mean, it's good to take a break every now and then, right? ;)
Happy Sunday friends!