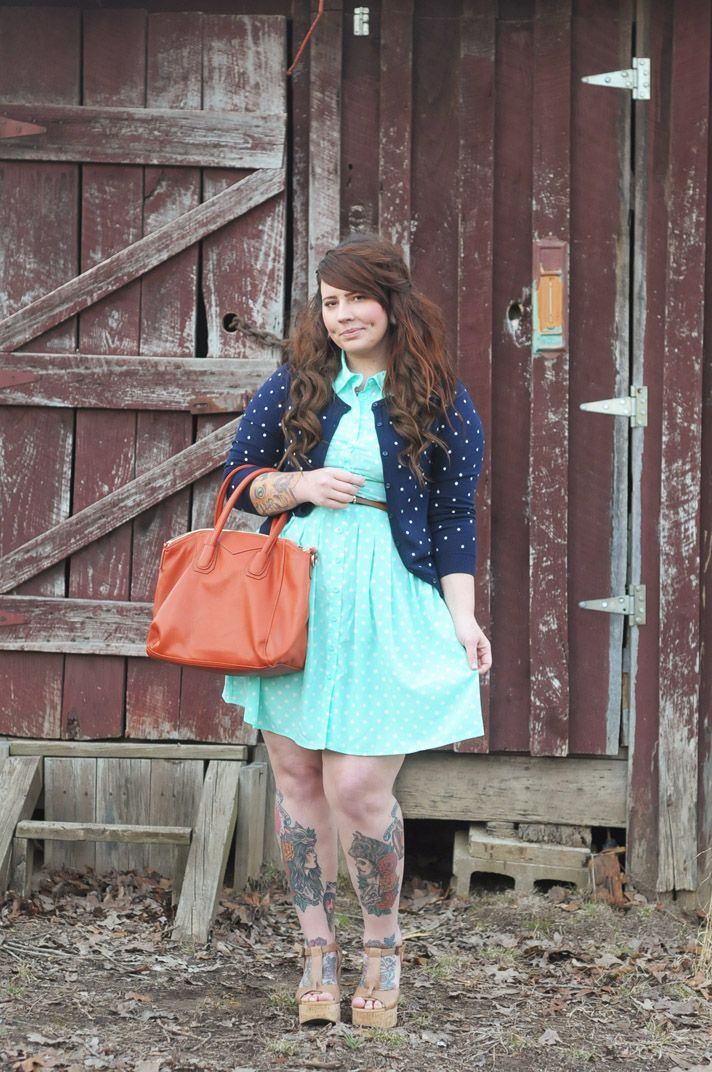 Are you guys like, super over me posting nothing but outfits lately? haha Normally I get dressed like once a week, now here I am... 4 in 5 days! I skipped out blogging yesterday so I could catch up on returning comments, reading new favorites, and you know, washing my hair. I found so many rad blogs to subscribe to just by going through the comments left here! Anyway -- I wore this outfit on Sunday for Toby's Gotcha Day. We spent some time with family and all that fun stuff. I picked up
this dress
+ cardigan last weekend because I can never resist a good polka dot. I didn't try on the dress at the store because it was super crowded and crowds make me cranky (way to go KB, going to the biggest mall in Tennessee on a Saturday...) Luckily it fits like a glove! I think mint + navy might be a new favorite color combo, too. I like that it's long enough to wear without tights, but I do still wish it was just a
smidge
longer! Either way, I went for it. I thought the orange was a nice contrast and I even pulled my old Blowfish Garrens from their shelf. I've had these shoes for 2+ years and they're still so comfortable. Do you think the outfit needs more gravity (darker shoes)? [Btw -
this dress also comes in red
! And
the cardigan comes two more colors
: cream and red! I'm having a hard time deciding which ones to get. The cardigans are seriously
perfect!
]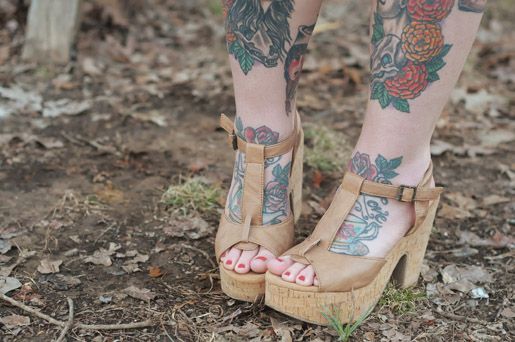 Lately I've been trying to decide what tattoo I'll be getting next. I've been meaning to make an appointment for weeks but I can't decide which of my plans I want to get first. I've made the decision to take my half sleeve to another full, and also work on sleeving the rest of my right leg. Both my mom and Mike shook their head when I mentioned my plans... haha welllll.... Our friends Brian and Christina said they're coming to visit at the end of the month (they'll be here for my birthday!) and Christina plans on making a tattoo appointment while she's here so I might as well make an appointment with each of my artsits and just knock out the plans asap, right?!
I really cannot wait for the weather to break. It's supposed to be rainy and cold all week, but I'm hoping March will be sunshine and greenery. We set up our hammock on our deck the other day and I can't wait to lay in the sun! Since we live so close to my parents now, I also plan on taking full advantage of their pool. As sacrilege as it is to say (in terms of tattoo care and you know, health in general), I really miss having a tan. Even just a nice natural bronze. I'm just so pale!
Forever 21 dress
Forever 21 cardigan
Maja purse c/o Little Black Bag
Garren wedges c/o Blowfish (2+ years ago)

PS; Just a heads up! I'm accepting sponsors for the month of March!
If you want to reach 500,000 potential readers/customers, feel free to
pop over to the Sponsor page
and check it out! Shoot me an email for rates + availability! [
FYI: I now offer one PRIME sponsor spot if you want to all eyes on you!
] --
If you've ever sponsored LCH in the past, I'm offering 20% off each ad spot! Just give me a shout to claim the savings :)