Red on red on red! This would have been a totally appropriate Valentine's Day outfit, I think. I wore this yesterday and honestly, I felt
pretty!
I think every girl really deserves to feel special, even for no reason at all, and that's totally how I felt when I put this dress on. I needed some bright color to jazz up the day. I snagged
this dress from ModCloth
back last year at some point and then only wore it once. I remember wearing it to our neighborhood coffee shop and getting complimented on it by a barista, but then I hung it up in my closet and never paid it any mind. For some reason it felt "off" at the time. I distinctly remember feeling somewhat self conscious in it but I can't remember why. I can guarantee that it'll be in steady rotation now. I can't believe I ever passed up an opportunity to wear a dress covered in cherries. On the real -- why aren't all dresses this length? It's
perfect!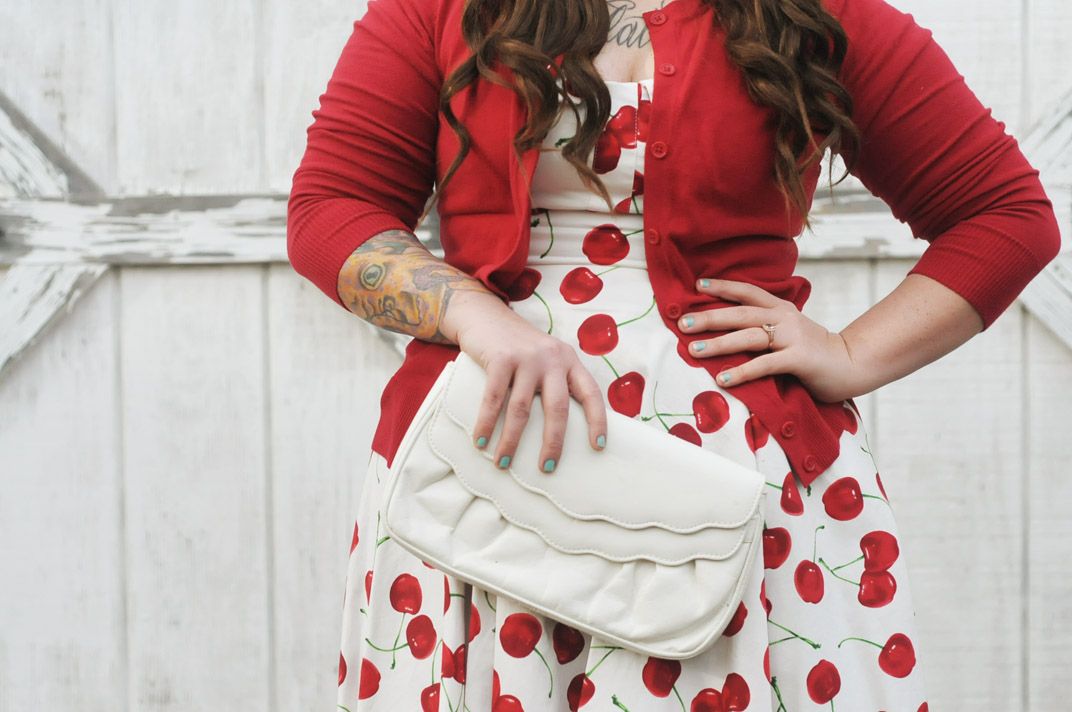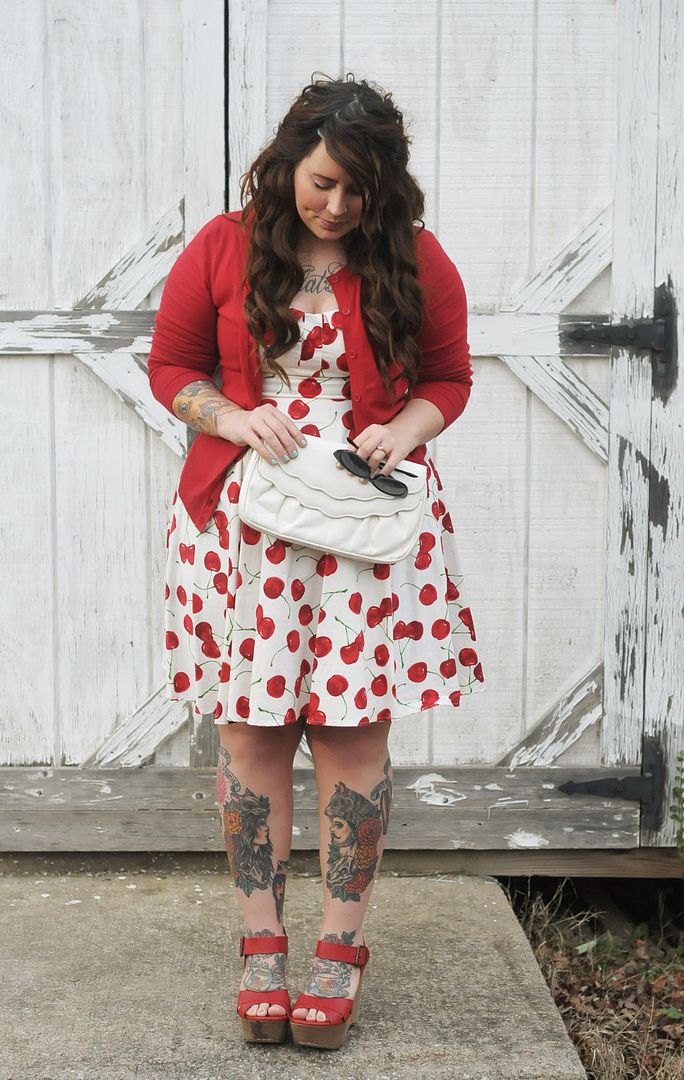 Speaking of cherries -- I am officially obsessed with the Sweet Tart Cherry Chip BonBons from Kerfluffles here in Nashville!
My sweet and oh-so-talented friend Jenna
is a marshmallow mastermind and I recently won a giveaway on her blog (!!!). The Flynn family was the recipient of a dozen marshmallows in 3 different flavors and she threw in some BonBons for an extra treat. Y'all,
Oh My GAW!
We ended up with Mayan Hot Chocolate (I assumed like "cocoa" hot chocolate, but no! Spicy! So good!), Pomegranate Berry (our favorite!) and Birthday Cake (sprinkles!!!). They were to die for. But I have to admit -- nothing could come close to those BonBons. I love knowing that I am surrounded by
so
many talented ladies and I love supporting local businesses, too. You bet your bottom dollar we're placing an order ASAP for more BonBons. (Psst -- just FYI...
you can order them online
and they ship worldwide! Jenna was kind enough to offer up a coupon code for me to share, too!
Save 10% with the code "KMFRIENDS2013"
. They even make custom flavors for parties/wedding/etc!) I'm going to have to get Jenna on here to show you her magic because she's awesome. Make sure you pop by
her blog
and show her some love! (If you order any, tell me what you get! I'm trying to decide what mallows to get next!)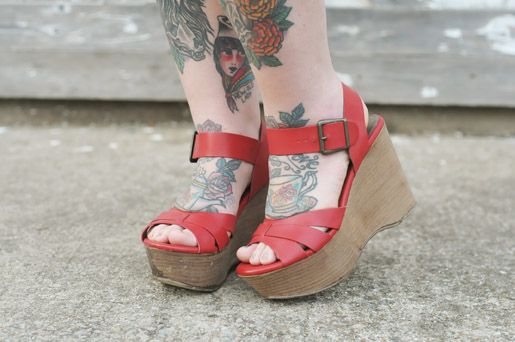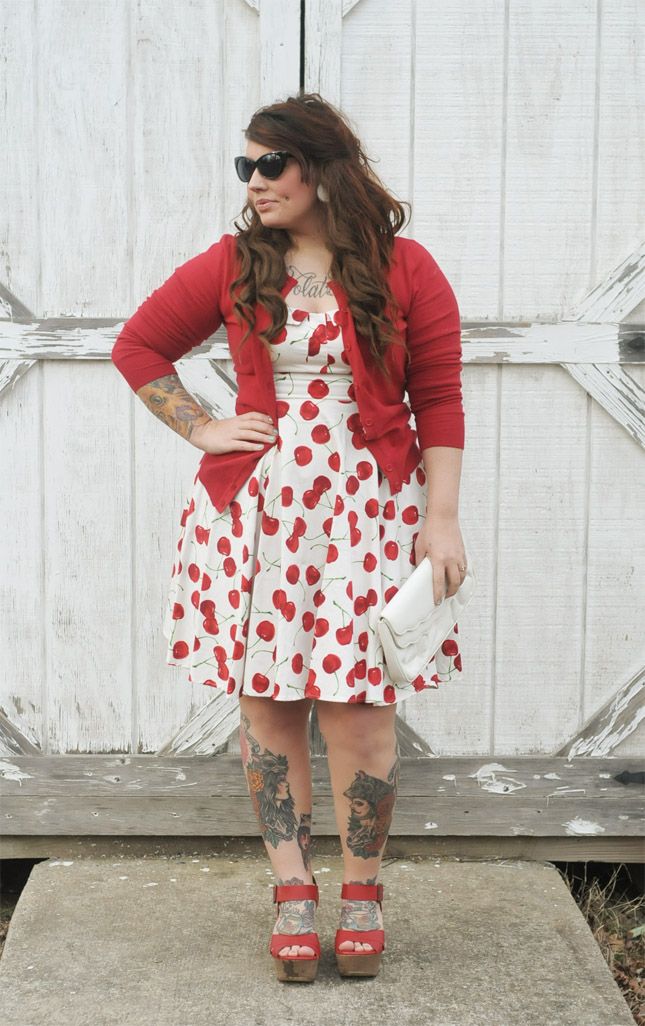 Today we're headed up to Nashville for a few hours to run some errands and escape the house for a bit. I mentioned that I've been working on a logo for a gyro/mediterranean food truck lately and Mike loves gyros, so we're on the hunt for the best gyro spot in Nashville so I can finally give it a whirl! I'm a super picky eater and I've always shot down his request to try it, but I gave him a Datevitation coupon book for our anniversary in December and one of the coupons was to "try a new restaurant" so here we go! If you're at all familiar with any gyro spots in town, please let us know! I'll have to report back on how it ends up... ha!
Sunday is a special day for the Flynn family, too. I'll be sure to share a post about that tomorrow! Hope your weekend is wonderful! xo
Pull Up A Cherry Dress via ModCloth
Target cardigan
Thrifted clutch
MIA Jukebox wedges (I have all 3 colors - seriously, favorite wedges ever!)