Gosh golly, I am feeling this sickness still. After being beyond worthless on Sunday (seriously, I only got off the couch long enough to take a shower... and never put on real clothes), I was determined to make Monday at little more productive. Well, I didn't accomplish too much. This cold hit me like a ton of bricks upon waking yesterday and I played the "poor pitiful me" part perfectly (I still am, to be honest). I refused to let it go to waste though. I finally managed to get dressed and get the fam out the door so we could head over to the next town to stock up on produce. One bad thing about living in a tiny town = absolutely no produce in the stores. No clue why. We did our thing and ran our errands, and the whole time I just sniffled, sneezed and tried not to run people over with my buggy. I think being sick makes me extra moody. Honestly I had absolutely no business being out and about -- all it did was make me feel worse and I really don't need to be spreading it to anyone else. On the way back home we stopped off at this pretty pasture to snap a few outfit photos. I faked the whole smiling thing haha After we got home I worked in my office a bit and then called it a night. There's always tomorrow (err... today)!
This outfit isn't a far cry from my last one. Sometimes I get in these moods where I just wear a lot of the same thing over and over again. I picked up this dress sometime last summer because it was on clearance. It was about 2 sizes too big, but because it was so cheap I snagged it and took it to our alterations lady. I'm so glad I didn't pass it up because I really love this dress. I think yellow is the perfect accent color, too. I got this American Rag jacket at Goodwill several years ago for all of a buck or two. Bargain buys are my all time favorite. Can't complain about cheap, right?! One thing I've noticed from these photos: Homegirl needs to cut those bangs! Yowza! Let's hope I don't hack them this time haha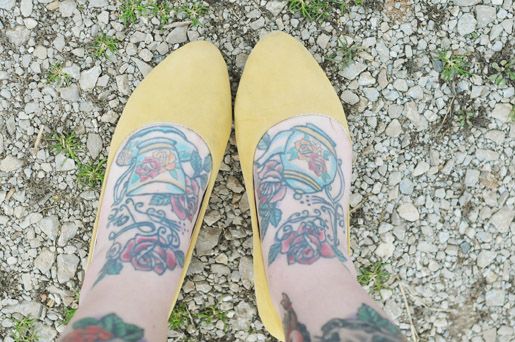 I'm planning on taking it easy again today, but actually getting more work done in my office. Today I'm working on a logo for a Mediterranean food truck (!!!), photobooth wrap decals for a business I branded last year (so different!), and I'll also be launching one or two new blog designs for clients. It's a busy day but I like when I can really churn out some productivity in one go because then I just cycle back around to being useless. I mean, at least I'm admitting it :) Just in time to snuggle up on the couch with my husband and watch White Collar. Win/win!
Chetta B dress
American Rag jacket via Goodwill
Thrifted belt
SheInside shoes