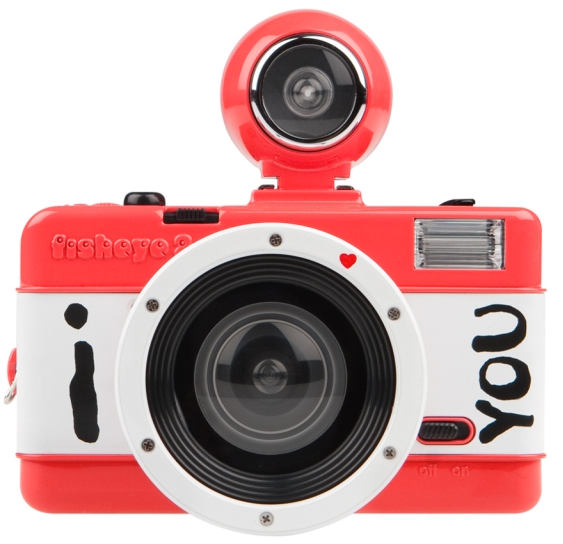 Up for grabs this month is a shiny new fisheye no. 2 camera from Lomography... but even better yet, it's the "I Love U" version! What better way to show how much I love all of y'all except to give you a fancy little token of my appreciation! Mike and I have a Fisheye No. 2 (but just the plain white one) and we love it. It's so much fun to take photos with!
All you have to do to enter is:
Be a follower of this blog with Google Friend Connect!
(Click "Follow" in the upper nav bar and follow with Google/Blogger, Twitter, Yahoo, or Aim!)
and then leave a comment with your email address!
(This is just one entry!)
You must do this entry first to be eligible for additional entries!
To gain additional entries you can:
(1) vote for my AE entries HERE and HERE
(just takes 1 click and each vote gets you an entry! 2 entries total!)
(2) blog (or Tumblr!) about the giveaway
and include a link,
(3) tweet about the giveaway
by using the tweet shown below,
(4) update your status on Facebook *with this link to the giveaway: http://tinyurl.com/3umkxrv *
(5) "Like" Little Chief Honeybee on Facebook
!
Just be sure to leave a separate comment for each entry and leave the link to each one! Overall that's SEVEN ways to win!
*If you tweet about the giveaway, please use this tweet:
Up for grabs on the @kaelahbee blog is an "I Love U" Fisheye camera! Enter to win here:
http://tinyurl.com/3umkxrv
(You must include a link to the giveaway in your tweet/blog/status update! Several people have just been tweeting at me or leaving a comment on Facebook... I'm not sure how that would enter you! *PLEASE NOTE: tweets to me, in my Tumblr ask box, or comments left on my Facebook will not count as an entry!
The point is to share this giveaway with others and make them aware of it! ;P)

A winner will be announced at the end of the month! Good luck! (Don't worry, there will still be other sponsored giveaways going on in the time being!) And there are no location restrictions on this giveaway! You are free to enter from anywhere in the world!
THIS CONTEST IS CLOSED!