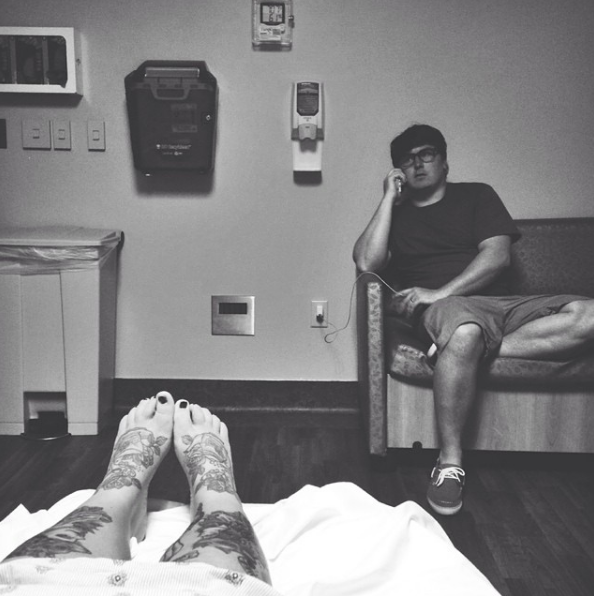 I've been getting comfortable in the Labor + Delivery ward at my hospital the past couple of weeks... and by comfortable I mean seeing far more of them than I'd like. (And being insanely uncomfortable to boot... Those labor beds are awful!) I did a half-day stint at 34 weeks for fetal monitoring, and then spent another day in there yesterday. Y'all, this last stretch of pregnancy is wearing me out.
One of the scariest things about pregnancy is that you just never know what to expect. Despite reading countless books, articles, forums, etc, I never really know what's "normal" and not. Last week in Florida I started experiencing some weird symptoms (for me) and just generally felt awful. False labor pains, nausea, etc. After calling my doctor on Monday we decided to play it cool until my appointment today (Wednesday). Unfortunately my body wasn't having it. Monday night I noticed that the baby had stopped moving entirely, and despite my best efforts to move him with orange juice, ice water and good old fashioned poking, he wasn't having it. I woke up to the same thing. Even the bathtub couldn't wrangle him into a wiggle. Then I had a crazy bad headache and nausea, so Mike took my blood pressure. And it was pretty sky high, which was weird. I had done a whole lot of nothing all day aside from tinker with some design work on the computer. My doctor had already closed for the day so we hopped in the car and headed to the hospital.
I was admitted for several hours of monitoring, fluids and tests, and I was having regular contractions every 5 minutes or so. Oh joy! The baby's heartbeat was quickly picked up (thank goodness!), but it was bounding like crazy. From his general baseline of ~160, he was accelerating to 202 and then crashing down to 97 in seconds. Of course I didn't (don't?) really know what any of that meant, but luckily my blood pressure stabilized (and then got really low?!) and his variables were very short in duration. After hours and hours of being hooked up to continuous fetal monitoring and vitals, my butt and back were killing me! Seriously those beds are the single most uncomfortable piece of furniture I've ever laid on haha Luckily all of my tests came back clear and the doctor thinks maybe the baby's variables are due to him rolling around on the cord or grabbing it. Not to mention I seem to be continuously dehydrated no matter what. I should hopefully know more today. This whole thing is so nerve wracking. Never knowing what is what, or why it is.
I'm just really grateful I had Mike with me yesterday because he really proved himself to be an advocate for both me and the baby. I always knew it was important to have that support system there, but I didn't realize just how invaluable it was. He knew what questions to ask, when to elaborate on answers that I was short with, and he stayed on top of everything in the time that I was there. It certainly wasn't the most fun way to spend an evening/night, but I know I would have been far more scared had he not been with me (like the first time when it was just me, Toby and my Nana!) And I'm so grateful that we had family we could leave Toby with for the day because that kid likes to tinker with hospital equipment ha.
Being admitted, even if only for a short time, made me realize just how much we have to do before this baby comes. He could be here any minute! And of course that doesn't help when you've been told to take it easy. From here on out, I'm letting my body just do it's thing. If I want to rest, I'll rest. Work will be there when I'm done. If I want to sleep in, I'm going to sleep in. After a solid week and a half or more of pushing my body to perform, I'm starting to pay for it. I have to try and remember that I'm on this baby's schedule... he's not on mine. (But seriously, Baby Flynn, please bake a little while longer! I'm really not ready!) Now that I'm officially 36 weeks, I'm just hoping my doctor won't be all "Okay! You're having a baby next week!" when I go in for my appointment today... Cross your fingers for us! My very best friend is getting married in 2 days and I'm supposed to stand next to her, but I'm so worried that my doctor is going to nix the whole thing. Traveling by car to Chicago at 9+ months probably sounds absolutely insane, but I really hope we're able to be there! Pregnancy is such a crazy, eye opening experience. I think he's making me pay for the smooth sailing in this last little stretch because holy moly I've reached that point of being uncomfortable 24/7 haha! xo