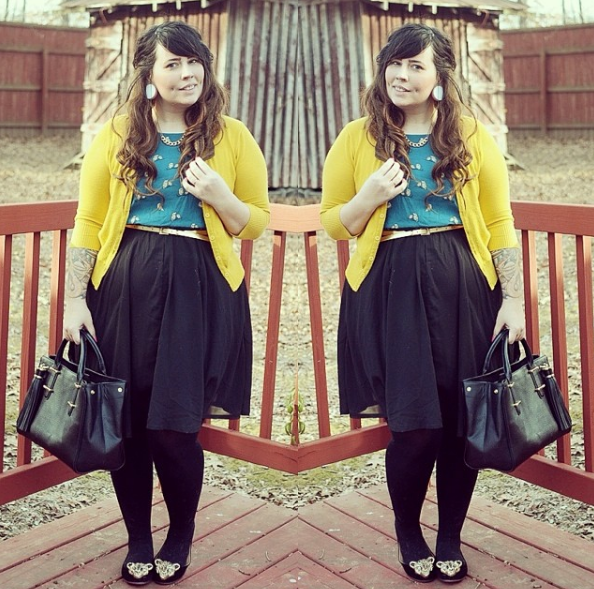 If there ever was an outfit that felt like a throwback, it's this one. "Funeral tights" and some black flats... although these black flats are quite obviously cooler than my old K-mart kicks. Two things become rather apparent in these photos: my grey hairs (!!!) and my somewhat-sort-of-there baby bump.
This dress
makes me feel like I'm 19 again, and it's probably due to the little owl print on it. While I totally gravitate toward novelty prints, I don't typically pick up dresses like this anymore. Still, I couldn't say no to this gorgeous teal color and the
swooshy
chiffon skirt. It really did feel like taking half a decade off of my age, and sometimes that can be a good thing! (Especially since I feel so old lately haha) But seriously... these shoes! I had some shop credit sitting around for well over half a year and I finally decided to use it for a few pieces on the site. I snagged t
hese Jeffrey Campbell flats
and I was so stoked.
Aren't they amazing
?!
Have you ever had that weird feeling where you feel like you're getting absolutely nothing done, but in reality you're on top of your entire "to do" list?
Maybe February just brought with it a nice reprieve or something, but I just feel like I should be working
more
, even though there's nothing left for me to do that day. Lately I've been finishing the entire day's tasks by 10am, and while that sounds great in theory, I feel like I'm in a constant state of "What's next?" I'm probably just overthinking it. Goodness knows I
could
use all of that spare time to actually accomplish MORE... yet I choose not to haha I think I'm simply in a state of underachievement right now. That sounds so sad to admit! -- I need to be working on the editorial calendar for February because it's already the 4th and I have no clue what I'm blogging about tomorrow. I need to line up this month's
Rad Gal, Rad Gig
, too! I've received so many awesome submissions! I've said it hundred times already but I'm ready for the second trimester energy surge so I can tackle
so many things!
If you have any specific requests for post topics or features here on TCGG, feel free to let me know! I have a few new features I've yet to unveil (one that was the driving force for the rebrand/rename - so stay tuned!), but I'm always open to hear what YOU are looking for! (Except to the gal who suggested tax advice! haha I think that's actually illegal and even if it's not, I don't feel the slightest bit qualified to talk about that! You don't want me telling you how to talk to the IRS!) Until then, I'm just going to watch Seinfeld and try to squash my craving for picklesicles 24/7. Happy Tuesday!
Owl dress c/o Yours Clothing (currently 50% off!)
Target cardigan
Link necklace c/o LoopsWay
NoNonsense tights
Ivanka Trump purse
Jeffrey Campbell Leo flats