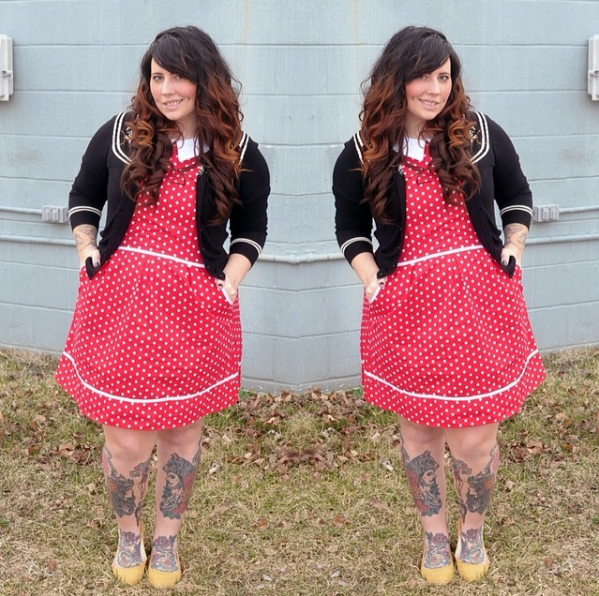 Happy Monday, friends!
Today I'm off to Las Vegas for another round of WWDMAGIC! (I couldn't be there without your support so please know how incredibly grateful I am!) Yesterday we had such a gorgeous day! It kicked my Spring Fever into serious overdrive. Sunshine, bare legs, and an incredibly blue sky. It sure beats the frozen rain we got for the entire week leading up to it. I took advantage of the sunshine and popped out of the house in a new polka dot dress. I scored
this little number from ModCloth
recently and I instantly knew I had to pair it with my yellow flats. Everything about it screamed Minnie Mouse to me! I opted to tone down the loud colors with a
new, black nautical cardigan
from
Voodoo Vixen
. I'm obsessed with how comfortable this cardigan is. It's solid black right now, only because I made sure not to sit on any of our furniture wearing it haha! Ugh, life with short hair dogs! (Speaking of which, any of y'all have any recommendations on
really, really
good lint rollers or snazzy methods for getting rid of pesky pet hair?!? Nothing stands up to bulldog hair it seems) Anyway, I
love
this dress
! It's a little short on the backside, but the color and fit are otherwise perfect. The bright white collar is definitely one of my favorite features. Plus the piping on the little pockets!
Last week was such a blur for me. Everyone in the house battled an icky stomach bug, Toby was out of school for 2 or 3 days thanks to "snow" (ha!), and we spent Friday at a Pre-K Cake Walk where Toby hit the jackpot! He won six times! After #4 we were like "Okay, this is just ridiculous" and we asked Toby if it'd be okay if we gave his extra winnings to his friends instead. At the end of the day he still came home with 3 boxes of Little Debbie cakes (Swiss Rolls for him because "they're [his] favorite". Oatmeal Cream Pies "for Dad because they're his favorite". Strawberry Rollups because "they look yummy") and a big box of V-Day chocolates "for Mom." That kid! Not to mention the big box of candy, treats, and Valentines his classmates gave him. Tobes was on cloud nine basically haha
On the topic of Valentine's Day, did y'all have a good one?!
I woke up to
a dozen peach roses
,
the most comfortable maternity shirts
, a
hilarious pregnancy book
, and plenty of candy. Not to mention a handmade card from my mister! Mike totally spoiled me and I was over the moon! I returned the love with
new snazzy pajamas
,
some Forage bowties
(
no other brand compares!
), a
silly lovey-dovey book
, and
a handmade pineapple card
(I mean, a
fineapple
!) Toby racked up with some SpiderMan gummies, a Lego digger, and new Matchbox cars. I know it's not about
what
you receive, but it was such a special treat for each of us. After we put Toby to bed on Friday night we enjoyed a few episodes of House of Cards season 2. Have y'all watched it yet?!
Dude!
(Please don't share any spoilers for others!) I'm so stoked on this season. That's one amazing show.
I'm looking forward to a full work week in Las Vegas! I can't wait to reconnect with some of my favorite brands from last season, and meet plenty more. If all goes according to plan I'll be interviewing Kristin Cavallari tomorrow, too! (Let me know if you have any [non personal] questions you'd like me to kick her way!) If you're in Vegas (or have experience there) let me know if there are any places I should check out! I'm almost 17 weeks pregnant so I don't exactly have any business in the ~*clubs haha! (Though I definitely plan on popping into Beacher's Madhouse on Wednesday night with the rest of the group! Even if just for an hour. How can you pass that up?!)
Also - that last diptych! How cute is that kid?!?! Gosh I just love him! He's kindly requested that we cut his hair before t-ball season starts so those precious strawberry blonde locks will be long gone here soon. Anyway, have a lovely day! xo
SheInside flats
Toby's outfit:
Old Navy tee
Old Navy sweater
Old Navy jeans