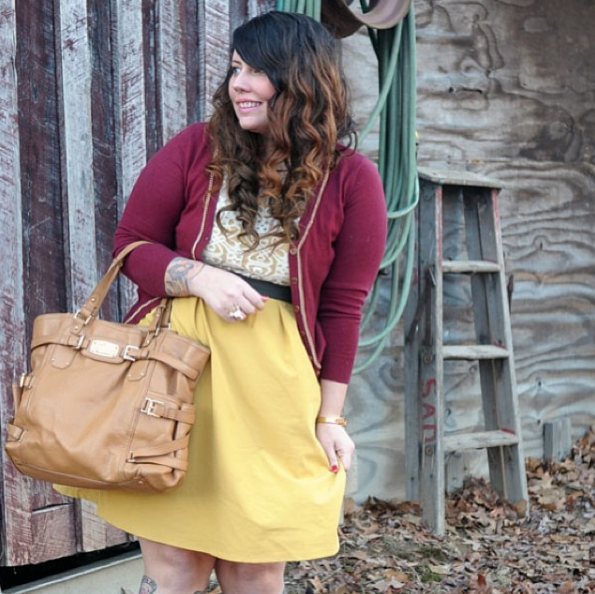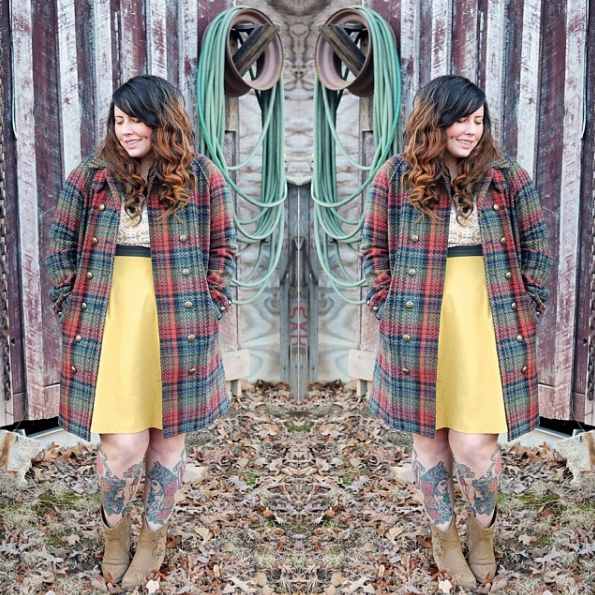 Happy Monday, friends! I woke up to a whole lot of gloom and rain this morning, but that's the perfect excuse to snuggle back under the covers once I finish writing this. Mike has come down with something awful (please don't let it be the flu!) and I didn't get a wink of sleep last night, so I'm running totally on fumes. Goodness knows I have plenty I should be doing but I'm looking at the rain as the universe's way of saying "Take care of yourself. Get some rest." Haha (Even if that is a stretch!) Anyway, outfit posts around here have been few and far between thanks to the weather. I'm not a fan of the cold and this latest stint we had with -1* temps was just too much for me. I know that's nothing compared to a lot of places, but that's definitely something for Tennessee. Luckily this weekend we saw temps dance around in the 50's. It felt warm enough to go sans tights for a little while!
This is what I wore on Saturday (and Sunday... and I maybe slept in the dress, too. Hey, I don't claim to be perfect.) I've been in love with
this dress from ModCloth
for a while now and I'm so glad I was able to snag it before it sold out. It's so comfortable and the length is
perfect!
Not to mention the lace-esque top and mustard color are my favorites. I managed to pick up a few cardigans like this one at Target a week or so ago
for fifty percent off!
They were only $12! The little chain detail definitely classes them up a bit, too. I broke out a few accessories I hadn't worn in a long time and even opted to wear a quartz necklace Mike and I made (for Honeybean). And lipstick! I wore lipstick! I felt more put together this weekend than I have in months, just disregard the greasy hair haha. Oh and then there's
this coat
... This coat is what dreams are made of. Despite it being a gift from
Free People
, it's by far the most heavenly coat I've ever owned. It's
gorgeous,
and so warm! I wasn't sure if I'd love it at first because it's a completely straight silhouette (
and I'm not
) but it's perfect. It runs a little big (mine is a size 8, for reference) but I have no complaints at all. I get so many compliments on it when we're out and about.
Yesterday I was able to drop in on
Lauren
+
Jenna's
birthday lunch at
Woodlands
. It's an Indian vegetarian restaurant on West End. I had never had Indian food before and I'm naturally skeptical of everything, but I was pleasantly surprised. It was quite delicious! It was nice to see a bunch of my favorite ladies again and just hang out for a few hours. I think there were 9 of us there total if I'm not mistaken. I'll have to do a proper introduction of all the Nashville gals soon. Y'all would love them, I'm sure. I hightailed it home shortly after and spent the evening laid out on the couch watching
Grey's Anatomy
with Mike. He hardly ever gets sick, so when he does, it's usually pretty gnarly. I'm hoping whatever it is will pass soon (and not spread to me or Toby!) because he's downright miserable. I hate seeing him so sick :(
Today I have several signs to get busy painting (Valentine's Day orders are currently shipping! Email for details and rates!) and a calendar that needs planning! We have some really fun
Him + Honey
shoots coming up so hopefully I can share those once the film gets processed! Hope it's warm wherever you are! xo
Target cardigan
Honeybean necklace
Karmaloop bracelet (20% off with repcode KAELAH)
Bullets 'N Mullets antler ring
Michael Kors 'Gansevoort' bag
Blowfish boots
PS; Don't forget to enter
the Loopsway giveaway
!
PPS; How adorable is Hazel sneaking into several of the photos? She's one lovable little creature. We're still trying to find homes for all of the kittens, but Hazel is the only one who is socialized, so it's proving sort of difficult.