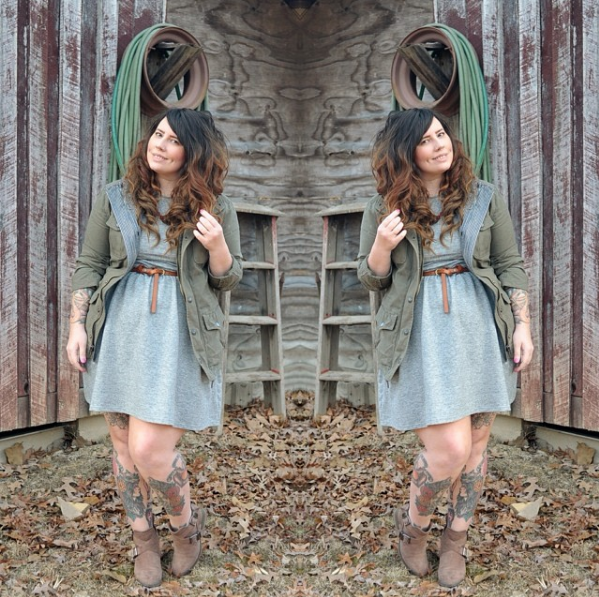 Real Talk: I have been eating, breathing, living, and sleeping in this dress lately.
There are no words to describe the comfort of this baby. It's just a simple, short sleeve jersey dress but it's perfect in every single way. I normally shy away from sleeves of any sort (they're not exactly flattering on my figure most of the time) but the material is so stretchy. It's one of those dresses you can easily layer up for winter or don alone come summer.
I posted a bathroom selfie
on Instagram the other day and so many of you wanted more info on the dress. I made sure to respond to everyone but just for posterity: it's from the
Rubi Collection
by
PopBasic
and you need to get your hands on it. Seriously. I don't know if they still have any left or not, but it's worth a shot! The necklace and belt are also from the
Rubi Collection
! I love how they go together so well. I know
my boots
don't exactly match the belt but these shoes are so comfortable, I can't help but wear them with everything. I'm also making the most of Mike's old military jacket. I'd be lying if I said this wasn't totally my current dream outfit haha -- Obviously this day was on the warmer side (it's been so nice lately!) but today the high is a whopping 31 degrees.
UGH!
My favorite thing to do is complain about the weather.
Welcome to my blog!
Toby went to hang out with Mike's parents for part of the weekend, then his sister took Toby to the circus on Saturday. We were childless for all of 27 hours and guess how we spent it? Netflix and sleeping. And we loved every minute of it! I'm growing more and more aware of my age it seems haha We spent all of Sunday traipsing around Nashville, running errands and bumping into friends. I feel like weekends are getting fewer and farther between. This week I know I have a whole lot to get accomplished. I have a lot of design work to try and get done, but all I want to do is plan a Valentine's Day getaway. (Valentine's Day is by far my favorite holiday, despite so many people saying it's not a real holiday haha) Can we all just enjoy the fact that everything gets to be pink and red for a little while?!
Thanks to everyone who helped me land a spot on the WWDMAGIC "blogging team" again! It was a totally different experience having to rally for votes this time, but major props to Stylesmith for the social media marketing because I watched the WWDMAGIC Facebook double in "likes" in just 10 days! Impressive! I know I annoyed the bejeezus out of each and every one of you who follow my blog or any social media profiles. But no joke, y'all are rad and I obviously couldn't have this opportunity without you! Now I will shut up about it (but if you're going to be at MAGIC next month or in Vegas, let a girl know!)
Forever 21 jacket (mens)
PS: "Grey" always makes more sense to me than "gray" when it comes to color. I know it's technically wrong to write "grey" in the US, but whatever... haha!