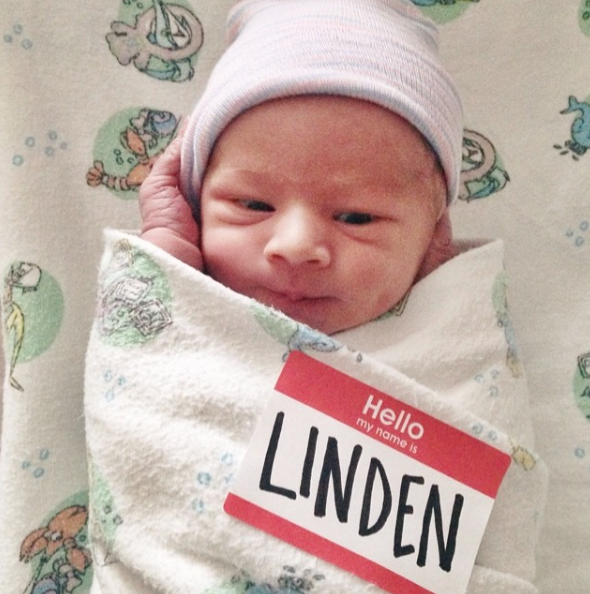 I was pretty positive that I wouldn't share Linden's birth story on the blog... I'm not sure why since I really enjoy reading those types of posts myself. I guess part of me was really heartbroken that his birth didn't go even remotely as planned, and I've sort of been mourning that experience for the past six weeks. The thought of writing about it made me feel guilty and ashamed because I was letting the little details cloud my memory of such an incredible experience. Don't get me wrong, he's here and I'm over the moon! He was born healthy and I got through it (fairly) unscathed... I'll consider that a huge success. I think I was just overwhelmed with everything. But for the sake of memory, and sharing my experience, I figured I'd write up a little something. (And of course a little something turns into a long something haha)
After being admitted to the hospital on five separate occasions in the five weeks that lead up to Linden's birth, I was terrified what the actual labor and delivery process might be like. Starting at around 34 weeks Linden's heart was going a little crazy. At my first hospital admission his heart was racing at lightning speed. Then just a week later when I was having regular contractions, his heart rate would drop considerably. Between his variables and my (mild) pre-eclampsia, my "totally easy" pregnancy turned into quite the adventure. Despite twice weekly non-stress tests, weekly admission to the hospital, and even a Pitocin-induced contraction challenge test, I was still loving being pregnant. I was sore and large, but I loved every minute of it. My doctor had expressed her concerns to me about Linden's heart and after a lot of consideration we agreed to start induction as soon as I hit 39 weeks. I was scheduled to be admitted to the hospital at 10pm on Tuesday, July 22nd and the Pitocin drip would begin at midnight. I was both elated and terrified.
Tuesday the 22nd rolled around and we went about our business as usual. I made sure to eat a delicious "last meal" and I even managed to sneak in a quick cat nap before heading out. At 9pm we left our house with our bags in tow and checked into the hospital. Apparently everyone was having a baby that night because we had to wait for a full half hour for a bed to open up before we could be admitted. After getting settled in I waited for my nurse to make her rounds and I psyched myself up for that awful Pitocin IV (seriously... the IV in the hand is the worst!). Finally at 12:30am my nurse came in to start the drip. She let me get up and move around a bit, go to the restroom, and then settle in bed to begin. As soon as I sat back down in the bed I felt a strange gush of water... like I had peed myself. Y'all, I thought I peed myself! I was so embarrassed haha! I looked around with a strange face and contemplated what just happened, and then I finally mentioned it to her and made sure to say "But I really don't think I peed myself... I mean, I just went to the bathroom"... Lo and behold my water broke on it's own! Seriously thirty seconds before the IV was to be inserted. (If my water had broken on it's own at home, I probably would've just assumed I peed myself. Seriously. That sort of comes with the territory of being 9 months pregnant haha It wasn't some crazy cinematic thing like you see on TV) Anyway, the IV was started and we were left to settle in for a long night of Friends reruns.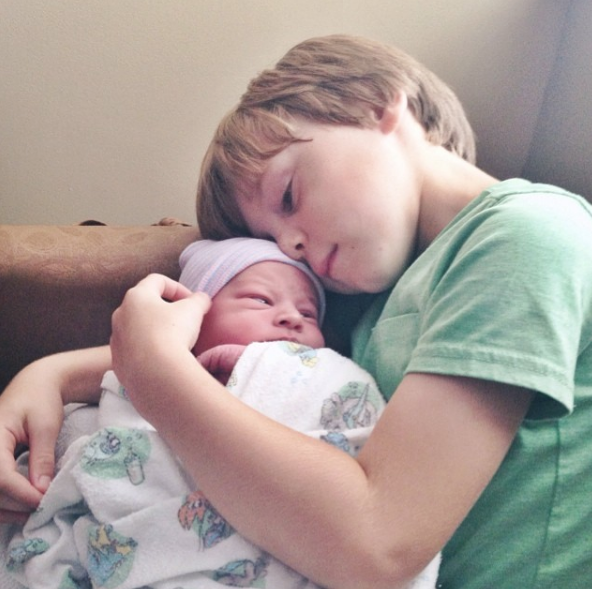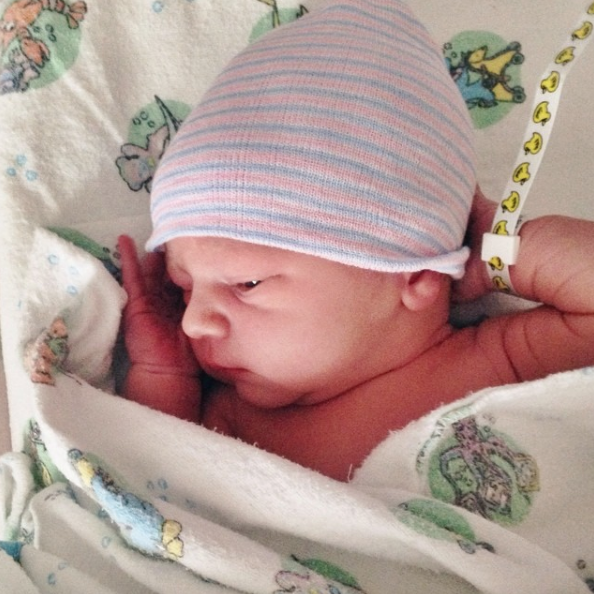 After about 30 minutes my contractions (which I could barely feel in the beginning) were terrible. The pain escalated so quickly and I could barely stand it. Since my water had already broken on it's own, I was free to request an epidural at any point. (Shoutout to all of you moms who do it the natural way, but that was *not* for me! Holy moly!) I buzzed my nurse and told her I was ready knowing it'd be a full half hour before the anesthesiologist could make it up there anyway. At around 2am the anesthesiologist showed up and inserted my epidural. It wasn't the most painful thing in the world, but it sure as heck didn't feel good either. In fact, I cried like a baby. And had snot dripping down my face. Not my finest hour... BUT! Sweet relief was there! Almost instantly my lower body tingled and went numb. So numb that I couldn't even lift my feet to move the cover haha Luckily I was able to catch a little bit of shut eye before the real show began. Or so I thought...
Not too long after my epidural I heard my "alarm" go off at the nurse's station. For the next couple of hours 2 nurses came in every 5-10 minutes to sort of roll me from one side to the other. Apparently Linden's heart wasn't doing so well. Despite "passing" the contraction challenge test a week prior, his decelerations were worrisome. By 4am my Mom and Nana were at the hospital, sitting in our dark room with us. The nurses came and went each time my alarm would sound, and eventually a midwife came in to talk to me about what was happening, telling me that a c-section might be in order. My doctor came by as soon as she got to the hospital sometime after 6:30am and said a c-section would be the only safe way to bring him into the world. I held it together long enough for the medical staff to leave the room, but as soon as the door shut behind them I broke out into tears. I had known all along that a c-section might happen. I had known for weeks that his heart wasn't really tolerating the contractions so it was a possibility. But I was scared. SO scared. I didn't know what to expect and I was terrified of being cut open on a table. Not only that but I was so scared that the contractions were actually hurting Linden in some way, like cutting off his oxygen supply or worse. It wasn't the birth that I had envisioned. Still, I made sure to write down my wishes on our birth plan should a caesarian take place. Within just a minute or two they had the OR ready, and Mike was suited up in his scrubs. They wheeled me in and started surgery at 7am exactly.
I don't really remember a whole lot about the actual surgery.
I was awake the whole time, but the drugs were pretty strong. I had a really really wonderful anesthesiologist that talked me through the entire process. She was so kind and that honestly made a world of difference for me. I felt slight pressure, but nothing was ever uncomfortable or painful. The minutes blurred together, and in no time I heard Linden cry for the very first time. I couldn't see him, but his cries alone sent me into emotional overdrive. I started bawling like a baby right there on the table. They lifted him up and started to clean him off. Mike was able to take his phone and snap some photos, but it was difficult because his glasses were so fogged up from crying! Seeing this made me cry even more haha! After that I can't really recall much of the next half hour. They let Mike take Linden back to our room so our family could see him, but I never even saw them leave. I was in and out of sleep since the pain medication was so heavy. The anesthesiologist kept having to wake me up to remind me to breathe deeply. They pulled me off the table and rolled me out of the OR at 8am on the dot... One hour from start to finish.
I got back to the room and everything was still so hazy. I remember holding him for the first time and being so incredibly awestruck by how precious he was. I wish I could remember more from those first few hours but everything is a blur. (That's really what prompted me to finally write all of this down... I'm so afraid I'll forget!) My parents stayed for a few hours and then left to let us rest for a while. We stayed in our L&D room for most of the day until we could be transferred to the Mother/Baby Unit. Mike's parents and Toby came in to meet Linden and everything felt wonderful.
I had envisioned this certain kind of birth experience and it wasn't anything like that.
I was okay with the c-section (though the recovery was
excruciating!
) and above all I'm just glad he's here, safe and sound. Part of me is still mourning the birth experience we didn't have... like Mike cutting the cord, immediate skin to skin contact, etc. Things that really aren't that huge in the grand scheme of things. Sometimes I'll still catch myself crying that I wasn't the first person to hold my baby... or the second. Or the third. It's silly to stress over because I've certainly made up for the "lost time" since then, but when you're in a heightened emotional state, all rationality goes out the window haha. There wasn't a single thing on our (extremely lax) birth plan that went according plan... but that's sort of how life is I guess.
Even with the stress, surprises, and slight speed bumps, I get to be the mom to one of the sweetest little guys around.
Part of me finds it hard to believe it's already been over six weeks since this experience, while the other part of me feels like it was so long ago.
Now that I have my first birth experience out of the way, I think I'll feel a lot more calm the next time around. I definitely hope we have more children in the future... no matter how they come into the world. I was never aware of how emotional a c-section could be, but I feel very lucky that we were surrounded by so many wonderful nurses, and my amazing doctor, because they made the whole thing so easy. I'd do his birth ten times over if it meant bringing the same sweet little person into the world. It may not have been my ideal, but it was perfect. I know so many women feel cheated when they have a c-section, and honestly, that's how I felt, too. I felt like my body was failing me, like when I got my preeclampsia diagnosis and when my body couldn't keep Linden stable. But now I see the good that has come from it and I can't really be mad, ya know? I asked a lot of my body during those nine months... I'd say I came out victorious. It was worth absolutely
every
second.
I know my labor and delivery experience may not be unique from anyone else's, but I'm glad I took the time to sit down and write it out. Even if just for my own sake. I'd like to be able to remember enough of it to tell Linden about it when he's older. That's good enough for me. Thanks for letting me share. xo