Christmas is just around the corner (seriously... 32 days!) and 'tis the season for showering your friends and family with love and carefully curated gifts! I'm an avid Etsy fan and I love to purchase things for my friends and myself. But how can you be sure that what you're getting is totally legit? How do you guarantee that you're not the only one out there raving about a certain product? See a really rad handmade item but you're not sold on getting it just yet? Well, there's a cure for all of this!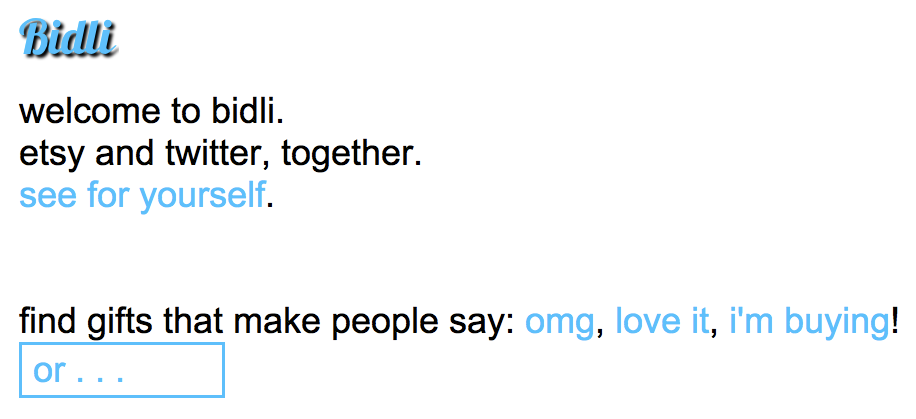 Introducing
Bidli
! Now you can search Twitter and Etsy all by entering a phrase! You can also search the live feed and see what people are saying about certain listings! Stumble across something "fabulous" or "cute" or "omg this is amazing"... It's a really great way to see what everyone is a buzz about.
It's seriously so incredibly simple. There's no way to not understand it. I found some seriously rad things by searching the tags "sweet" and "gorgeous"! My Etsy wishlist is growing and growing by the second! (This also comes in handy when you want to drop a hint to a certain someone about gift ideas for yourself! Birthdays and holidays.. Come and get 'em!) The best part to me is that I'm finding stuff I never in a million years would have thought to look for! My bank account is not going to be happy!
Drop by
Bidli.com
and see for yourself! There's no hassle of signing up or registering.. Nope! Just click and voila! Perfect, right?
How do you shop for your favorite loved ones? Online? Instore? Mass-produced or Handmade?