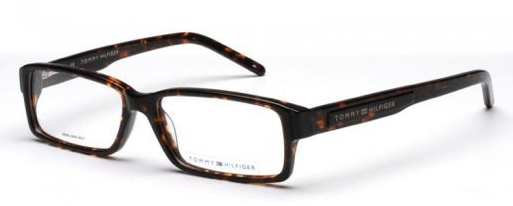 Here's a fun fact:
When I was younger, I wore the coke bottle glasses of ALL coke bottle glasses. I'm serious. My mom still has them at home (I should take a picture just to prove the ridiculousness of them!). I was a teensy little kid at that age and man, those glasses were BIG. [In case you didn't know, I'm blind in my left eye!]. Of course glasses never seemed to help my poor little eye, but I managed to have perfect vision in my right. So after many years of giant frames on my face I opted to do without. Fast forward to high school and college, all of a sudden glasses are the thing! Everyone is begging their parents to go
buy glasses
. Kind of like braces. (Did you ever go through that phase where you actually
wanted
braces because they were cool?!) It's weird how things work like that!
I've purchased many
designer glasses
without prescriptions just because I liked the look of them. And Mike didn't even wear glasses when we dated the first time around! Now I love love love him in his glasses and I really don't want him to get contacts! Now there are all these places where you can
try glasses online
to see what works best for your face. Technology!
Sometimes, however, it can get a little expensive to just go out or buy glasses online. They're not as disposable as sunglasses. How do you help your vision all the while looking fashionable? What would you wear with your favorite frames? Where would you jet off to buy fashion glasses online? The internet makes for a resourceful treasure trove of information, but that can be a little overwhelming at times. How can you know you'll be getting a quality product without breaking the bank? How do you know where to buy fashion glasses?
Well here's a solution:
GlassesUSA
is offering my readers a 10% discount on their next order!
This includes snagging a pair of prescription sunglasses online! Get a pair of
glasses online
without paying an arm and a leg.
All you have to do is use the promo code: BLOG10 when you checkout!
GlassesUSA is the perfect place to buy fashion glasses and reading glasses online! Shop for glasses frames online and buy glasses frames with no hassle. It's a win-win situation! At the end of the day, glasses are just as (if not more) versatile as a new handbag or pair of shoes! Frame your face with something fashion forward and eye catching!