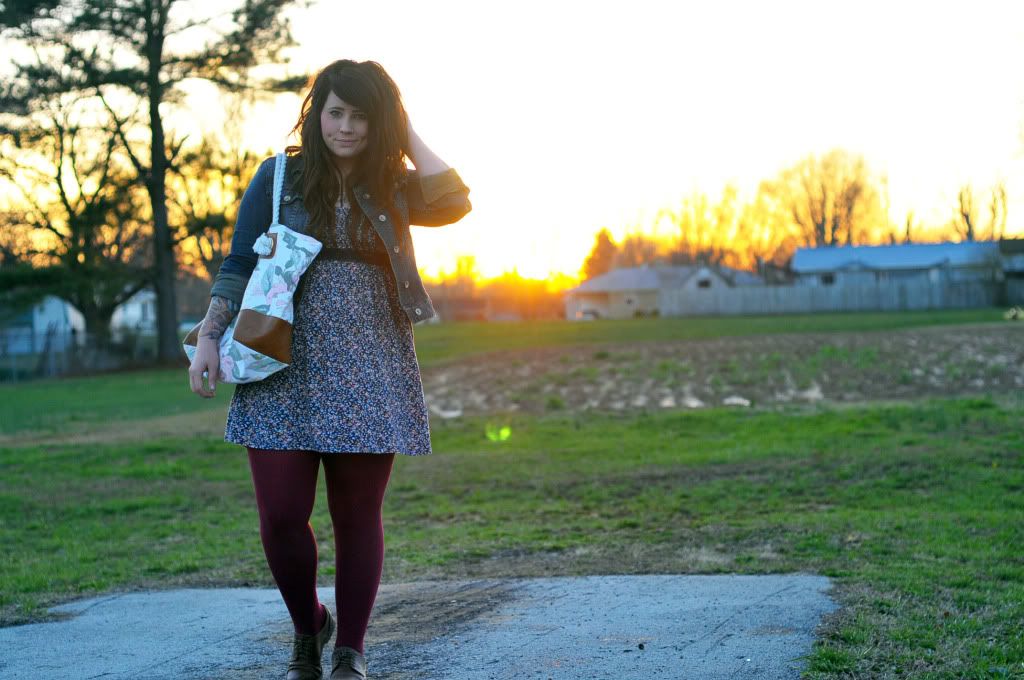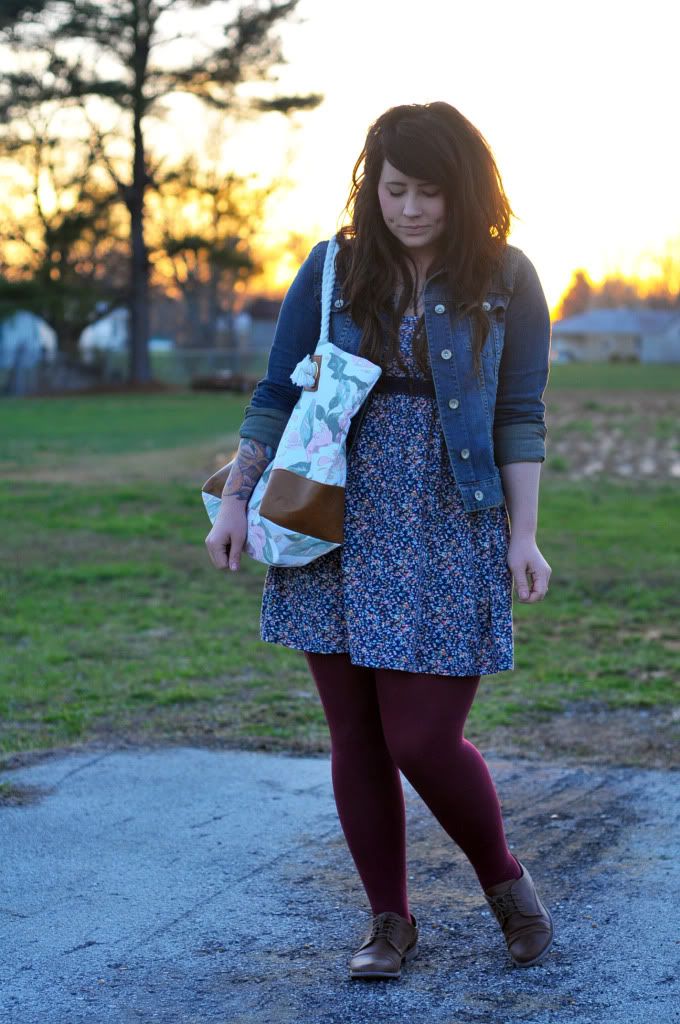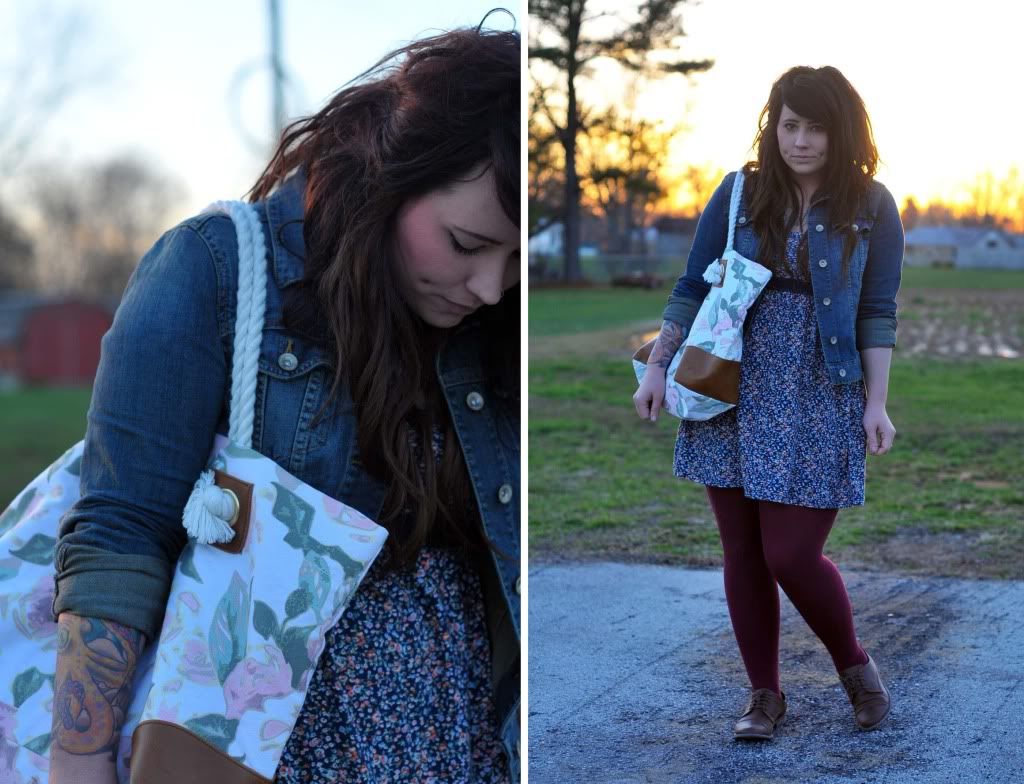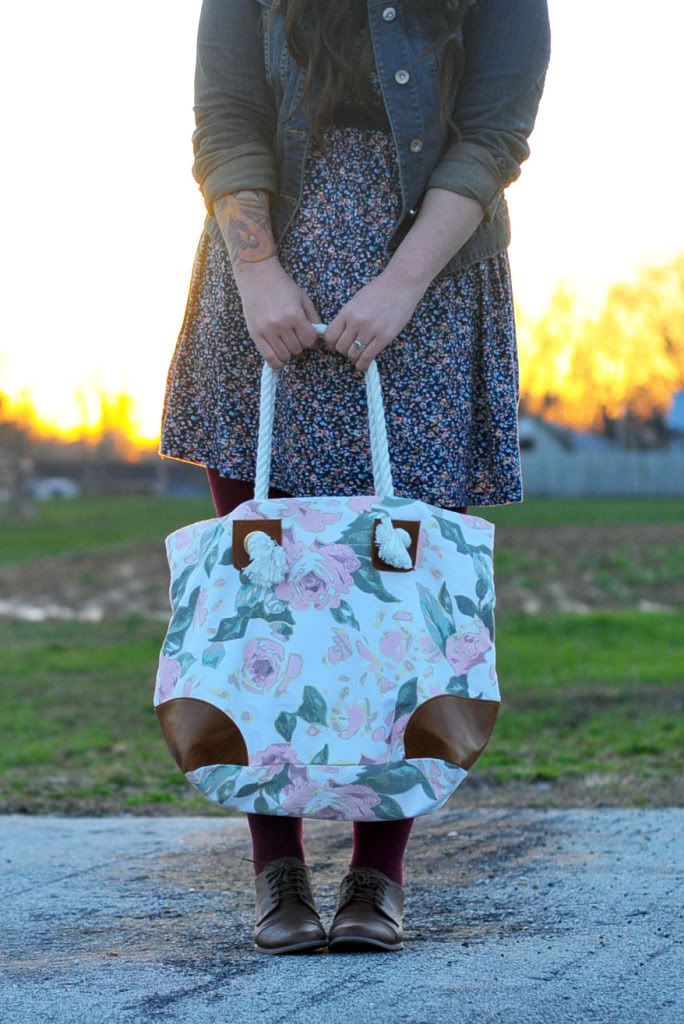 This outfit is what I wore on Saturday (and on my flight home Thursday, shh!). Mike and I headed to Nashville so he could assist a photographer friend at a wedding, and I cozied up at Panera to tackle my intimidating inbox. I managed to email
most
everyone back thus far, but of course the numbers are piling up again. I promise I'm working on it!
We shot these right as the sun was setting (obviously) and it provided a new look to the pictures since I wasn't facing the light. Sort of moody, broody, late 90's era. Can that be era-specific? Well, for the sake of the post we'll say yes! This denim jacket was inspired by Levi's as I was trying to branch out and incorporate more denim into my life. It's actually from H&M (only $40!) and it's the perfect color and fit. The dress is also from H&M and was only $13! It wasn't even on sale! Needless to say I snagged this one, one other floral pattern, and a white one! Perfect light, springy dress for the new season! The tights are some of my favorites... dark maroon ones from WalMart of all places! (They were on clearance today so I snagged 2 more pairs!). The shoes are a new item in my closet, too. I picked them up at Forever 21 in Times Square for only $20! As you can tell I
really
like to dress on a budget. Luckily all of these items will be easily interchangeable throughout all the seasons!
I also had intense allergies this day. You can't tell, but I had some tissue in the top of my dress because I was sneezing in between each take! Mike has a few candid outtakes of me just dying! We won't be sharing those though!
Work this weekend was eventful, to say the least. But I try not to drag work drama to the blog so we'll just leave it at that! Tomorrow we're heading to Nashville to spend the day thrifting and antiquing to try and find wedding goodies! I know we're only a week into being engaged but I have this overwhelming "It's real!!!" feeling coming over me and I know that it'll take quite some time to thrift all of the items on my list! I feel like it's much more exciting to find one thing here and one thing there rather than buying them all at once. Plus we are definitely going to have a very vintage vibe, I just know it! (I bought my wedding sketchbook today, too! Exciting and terrifying all at once!)
Happy Monday! xo
Dress: H&M
Jacket: H&M
Tights: WalMart
Shoes: Forever 21
Bag: H&M