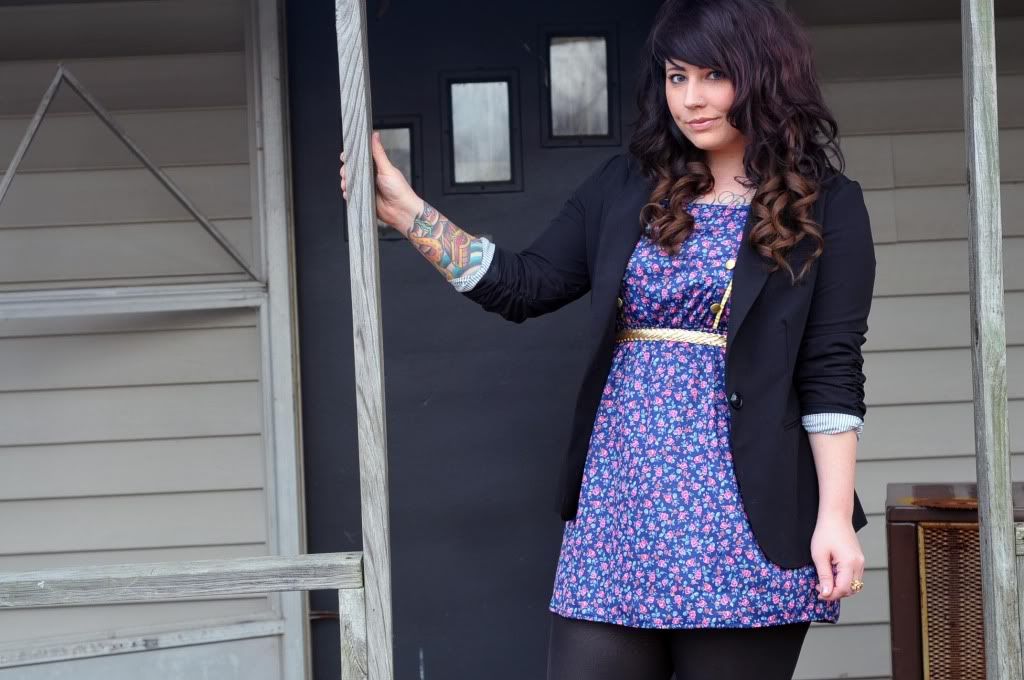 This outfit is actually what I wore for the evening/night of this past Wednesday. It's the Come Sail Away dress from ModCloth paired with a black boyfriend blazer, opaque tights, Dolce Vita wedges and a thrifted gold belt. This poor belt was all of 15 cents at Goodwill a few years ago but you can't see the insanely tattered front side. I turn it around and hide the buckle because it's just so so so worn out. I haven't found a great braided gold belt to replace it so I'm going to continue to wear it until it simply falls off of me. I love little finds like that!
Mike and I ventured over to this little abandoned house to shoot these photos. Nothing fancy, but peep those locks! It was actually the right lighting to show you the crazy difference in my newly dyed (again!) dark hair and my "natural" color extensions. My hair naturally fades to that medium brown color at the ends, so I get a normal occurrence of ombre going on, but this is just ridiculous! Of course since seeing these pictures I've acquired another thing of hair dye to dye my extensions, but I don't know if I'll have time on the trip! I've been wearing them anyway. Susannah says I can just pass it off as ombre but I think it's a bit much! No worries, all will be fixed soon! I'm starting to really like my hair so I hope it keeps up!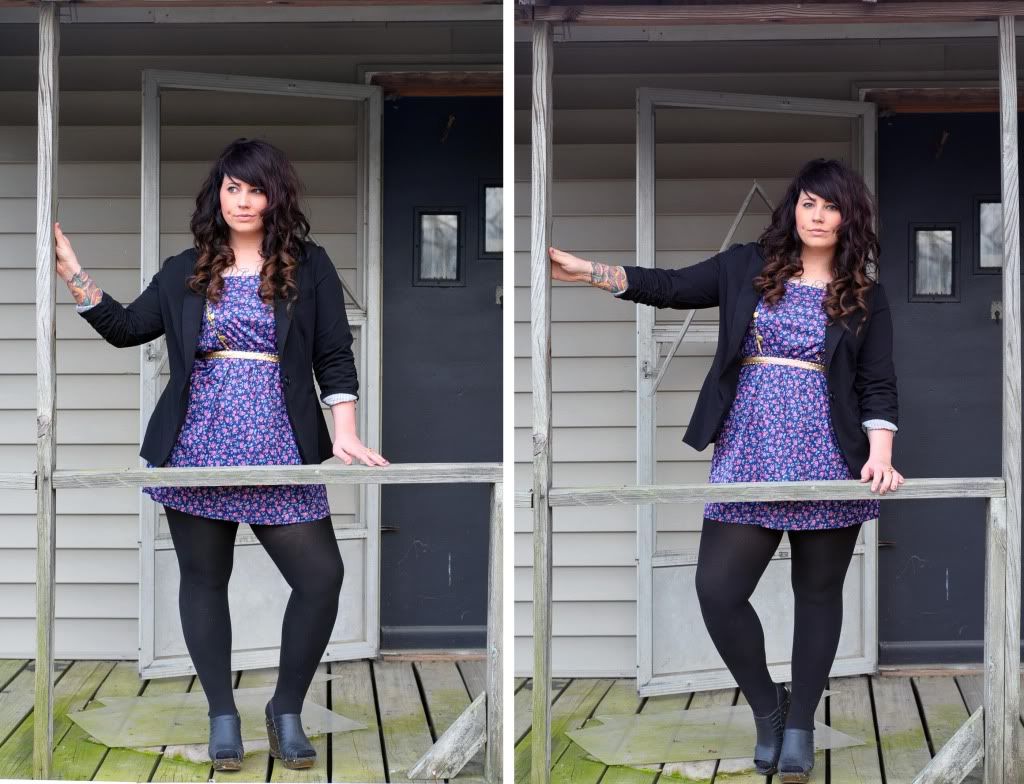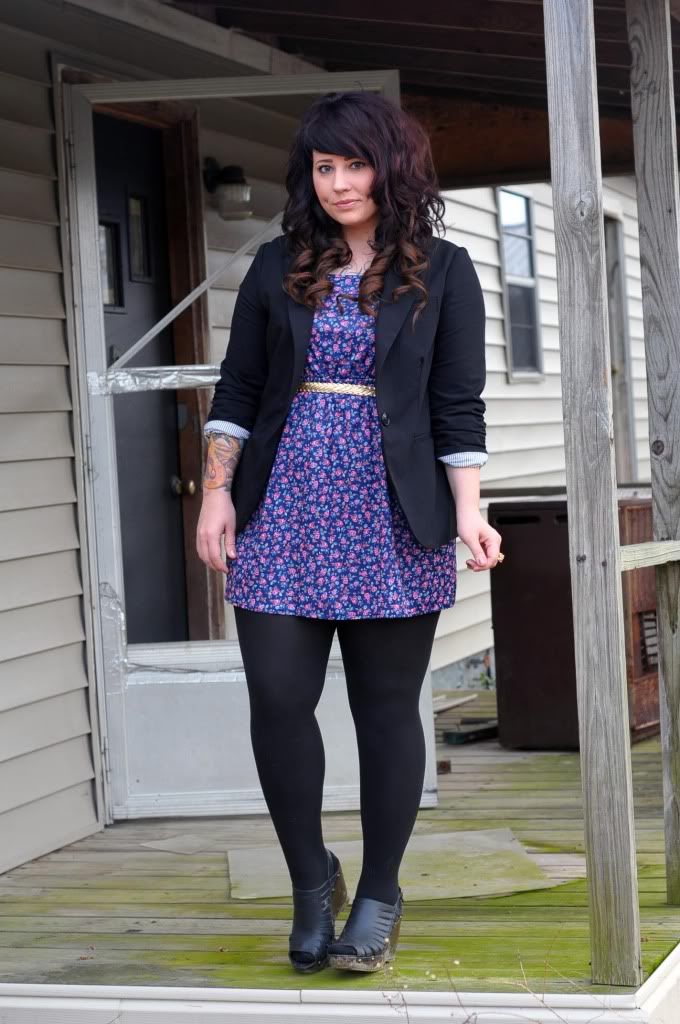 Yesterday was a whirlwind! If you follow me on Twitter then you can probably keep up with our hijinks but we stopped at Susannah's Aunt's cafe for a yummy lunch and then we went to Independence Mall where Susannah and I were tickled to have a girlfriend to shop with. She bought a cute dress and I snagged a lovely little handbag, then we took them down to the Kure Beach area to show them the beautiful beach homes. They loved it as much as we did, I think! On the way back to Wilmington we swung through the Brew-Thru for the boys to get some beers and we snagged a Four Loko each simply because you can't get them where we live. We came back to the hotel and changed before going out downtown to a little sushi house for dinner, then we walked down the street to the Little Dipper fondue for drinks and fondue with Susannah's cousin, Sydney, and her friend. From there we migrated to random bars and pubs before settling on The Opera House. We snagged the couches upstairs and had rad conversation for several hours. I had the girls drinking New Old Ladies and they tasted fabulous. (For some reason no bartender makes them the way I do, but here they're killin it!)
Finally sometime after 1am we departed the bar and headed back to our hotel, grabbed our drinks and all pow-wow'd in Susannah and Chris' room for more chitchat, hilarity, and
lots
of funny YouTube videos! We even have video evidence of our fun but who knows if it'll ever make it on the blog! At one point everyone was wearing a wig... So fun. We finally decided it was time for bed at 3:30am. I of course woke up bright and early at 8am, feeling totally refreshed. I laid there for 2 hours and finally got Mike up at a quarter after 10. We were ready to head out at 11 and decided on some Waffle House because they apparently don't have those in Chicago! Afterwards it was time for the beach, walking around and about, random shops and whatnot. Susannah and Chris met up with her sister for a bit and so me and Mike decided to drive around, look at neighborhoods, grab coffee, go to lots of consignment shops and take a 10 minute power nap! We're meeting everyone for dinner at 6:30 and then who knows what else!
Yow! This has been a long entry! We're trying to find Mike a cheap plane ticket but doesn't look like it's going to happen so I'll be by my lonesome in NYC next week. A few of you left comments in the other post about meeting up! @Reply me on twitter (@kaelahbee) or shoot me an email (kaelahbee @ gmail)! It might take me a few days to get back to you but I promise I will! :D I don't know what my actual itinerary will be but it could be cool to meet up for lunch or something! I'm terribly awkward so we'll see!
I have tons of pictures from yesterday and last night so I'll be sure to upload them shortly. I also have like 3 outfit posts to go up this week already! On top of it! I hope your weekend is treating you well! Can't wait to catch up on all of your blogs! xo
Come Sail Away Dress: ModCloth
Blazer: Charlotte Russe
Belt: Thrifted
Tights: HUE
Wedges: Dolce Vita x Target
Ring: Juicy Couture