This birthday has been spectacular, and nothing extravagant has even happened! I love the little things in life. They make everything totally worth the while! We signed the lease for the loft (hooray!) and we've spent the day picking out paint colors and patterns for our new little home. We are overjoyed. So now I'm going to share with you my 23 before 24 list of goals I'm
hoping
going to achieve by my next birthday!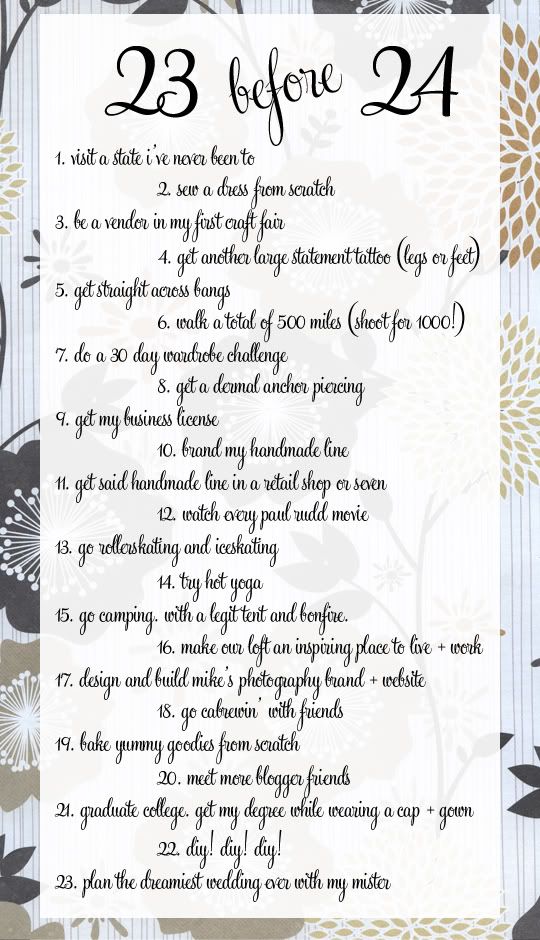 click to see full size!
Mike's favorite is
totally
number 12! (/sarcasm) haha I know it's important to balance out tangible goals with the not so tangible, but these are 23 things I find to be important at the moment and I have a whole slew of other things to add to it! I'll probably need all of your help! Well, however helpful you can be through the internet!
Do you have a list of things you want to accomplish before you turn a year older? Share some of them with me! (Or link me over to your post!)
PS; Thank you all so much for the birthday wishes today! You've made it absolutely fantastic and the overwhelming love and support I have from y'all is amazing!

PPS; To clear up confusion about #21: I did graduate. Well, I finished college in December, but O'More doesn't have winter graduations so I have to wait until May to walk at graduation and to get my degree. :) haha It's a special day because graduation day is also my mom's birthday! Having your only child graduate college is a pretty rad birthday present right? So I don't have to buy anything?! *kidding* :P