Things have been quiet around here this weekend. I'm (hopefully) coming off of an icky stomach flu and that's seriously my least favorite feeling in the world. I slept 21 of the past 24 hours and have only eaten a small handful of Saltines in that time. At this point I'm starving and feel like I could go 3 days without sleeping haha But I wanted to share a blogging platform with y'all today because I think you might like it!
I will always love LiveJournal. Always.
I started blogging on LJ in 2002 and to this very day, I still have an active account I log into daily. I don't update my actual journal anymore, but I still spend time in various communities, etc. One thing that I loved about LJ is that I could be as open and raw as I wanted (and I often was... Not exactly the best idea when you start friending a lot of people on there!) But LJ saw me grow up. Relationships, break ups, school drama and regular ol' worries. Even though I cringe at the sheer thought of it, I often like to go pick a random month in my archives and read all about what was hyping me up at the time. I do miss that private glimpse into how I really felt at any given moment. I guess I could easily keep a written journal, but I've never been able to stay consistent with those. When I found out about
OhLife
in early March, I decided to give it a go and see what it was all about.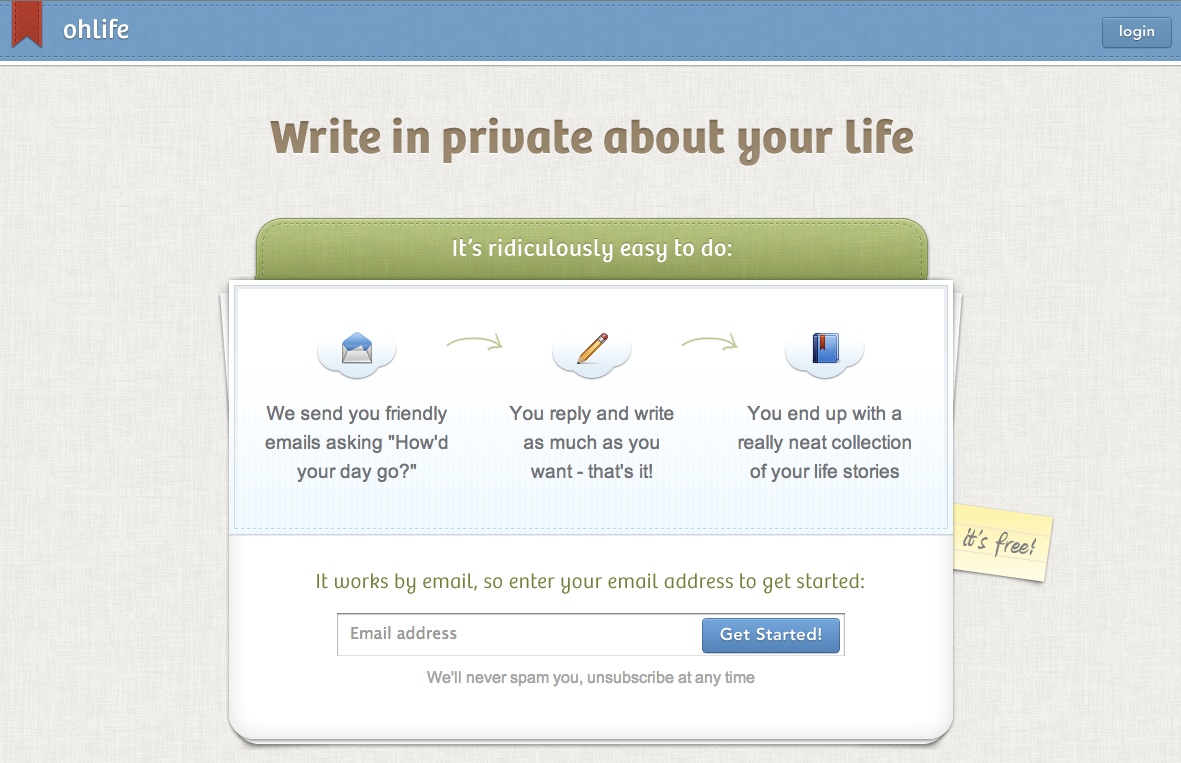 OhLife is a private journalling platform where you can write in as much, or little, detail as you'd like.
OhLife
sends you an email once per day, at your designated time, and you simply respond directly there in your inbox. You write whatever you want to include, hit "Send" and voila! A new blog post.

I have my emails set to be delivered at 8pm because that's usually around the time our whole family winds down. Toby comes in from outside and gets ready for his bath. Mike starts cooking dinner. And I work on finishing up my last bit of lingering work. Some days in my
OhLife
are dramatic and awfully emotional, while other days are "Went to the grocery store. Played baseball with Toby. Took a long bath." Some days I don't even respond to the email.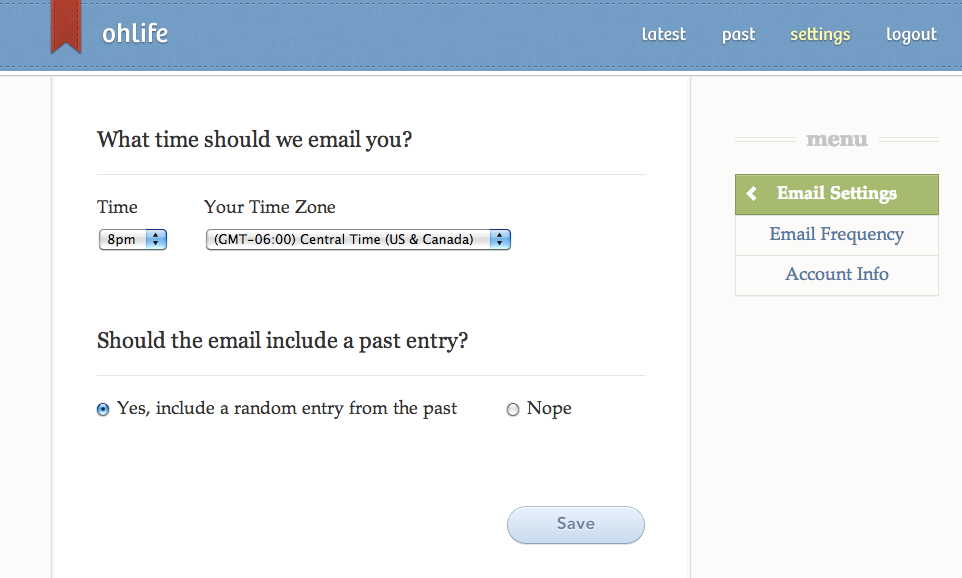 To me, OhLife is the perfect balance of how to remember the past with the key details, all the while venting when I need to vent.
Sometimes there are things that I see/experience from blogging that I wouldn't feel comfortable divulging on LCH. I'll tell Mike, and I'll tell a friend perhaps, but when I really want to just "get it all out", I'll put it in my
OhLife
journal. I also love that it's 100% private. No friends to add, no journals to read. It's just for you, the author. So many blogging platforms today are based on what you as an author can do to attract other readers, but not this one. This one is solely for your benefit.
I know loads of you are from the LiveJournal generation, too, and that's why I wanted to share this platform. I have so many micro-blogs going it's hard to remember them all, but I can see this one being like LJ - sticking around for a while. Blogger is great for socializing, LJ is great for the communities I grew up loving, Tumblr is great for photo inspiration, and Jux is great for a drama-free "happy zone"... but
OhLife
is great for being real. I love that. You'll have to let me know if you decide to try it out!
PS; I wasn't compensated in any way to write this post. I know that's the first thing people assume when they see a post full of adoration for a product. I just really dig it!