Win your very own pair of Blowfish Shoes!
Blowfish Shoes
has been such a consistent and wonderful sponsor of Little Chief Honeybee over the past several months and I'm ecstatic because they're a truly wonderful company. I have so many pairs of Blowfish shoes, they're definitely taking over my collection! It's no secret that the Romans are my absolute favorite (I have brown and grey!), followed closely by my toffee colored Garrens and my brown Gimmicks! I've got some black Sendersons (similar to the photo below) and some white Rescues, too! Can you tell I love them?! (Maybe this will give you an idea of what to choose, too!) I'm so so so tickled to have them on board and helping support LCH!
And lucky for you, they're offering up one lucky winner a pair of shoes in their choice!
And they just refreshed the shop with some Fall styles! Yeeee!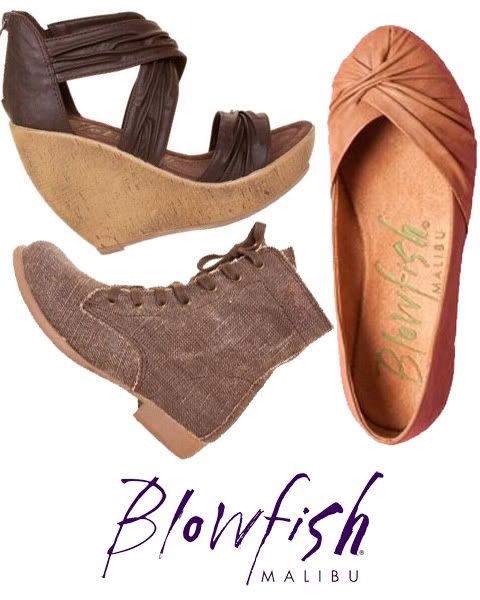 All you gotta do to enter is visit Blowfish Shoes and pick out your very favorite pair that you'd like to parade around on your feetsies!
Leave a comment below with your choice and don't forget to leave a way to contact you in case you're the lucky winner!
If you'd like some extra entries, just do the following steps below (and leave a separate comment for each one!)
Tweet with: "Win your choice of ANY shoe from @BlowfishShoes over at @kaelahbee's blog!

http://tinyurl.com/632tjh5

"
Follow @BlowfishShoes on Twitter!
This giveaway will be open until Thursday of next week when a winner will be notified via email (so don't forget to leave yours!). Happy hunting!
PS: If you're kind of impatient like me (or just want to have 100% odds of gettin' your new soles, like seeing 2 pairs you can't live without) then hit up Blowfish with a 15% off code: BFKAELAH15!