Today I have a trifecta of goodness from our extra large sponsor for February,
Tiffany DeMichele
! Tiffany creates bright colored wigs that she sells on Etsy! I just have to say how blessed I feel to have been really taken under the wigs, so to say, of Etsy-and-online wig vendors since my foray into the wig world in November! I still consider myself a super-novice and I have so much to learn! You will never find me pairing two vendors up against each other and this is never about who's product is better (that's for
you
to decide!). To me it's solely about knowing what it out there and what is available to everyone and to put some knowledgable information out there so each person can make an informed decision on what works best for them. So far I'm blown away by the response from not only the sponsors, but from y'all too! I think you'll really love the next couple of months if you're into wigs! You'll be seeing some really fun things!
Let's check out Tiffany's interview!
Hi Tiffany! We're so excited to have you here on LCH as one of our sponsors this month! Maybe you could start off by introducing yourself to the LCH readers?
Hello, I'm Tiffany and I am an artist through and through. I became interested in art at a young age. Throughout high school my favorite classes were ceramics, photography, fashion merchandising and of course art. I have studied all types of art as a young adult including marketing, photography, and art history.
Judging by your Etsy sales you're relatively new to the wig-making game! What was your initial venture on Etsy and are you still involved in it?
Well yes I am quite a newbie when it comes to the art of creating wigs. My original venture on Etsy was graphic design. I still love design but am more satisfied with producing tangible items not just jpegs and pdf files.
When did you first get involved in making wigs and how did that come about for you?
I have naturally curly dirty blonde hair so through my teenage years I have always envied other girls that had straight hair or girls that could try so many of the in-style hair cuts. Being limited to my same boring hair led me to wigs. With wigs I can have any color or cut I want. My wigs are all heat styleable too, meaning I can curl them one day and straighten them the next.
Where do you draw your inspiration for colors, cuts and styles from?
I love splashes of color in fashion and art. I can be feeling down and just add one accessory that is a bright color and lift my whole mood. I feel wigs are a fashion accessory and with a colored wig you can change your whole look and mood. I love current cuts of the Emo and Scene girls, but I also love the classic romance of curls. I am also a leader of the Etsy Anime Team. It's very fun to create anime costly wigs for people to wear.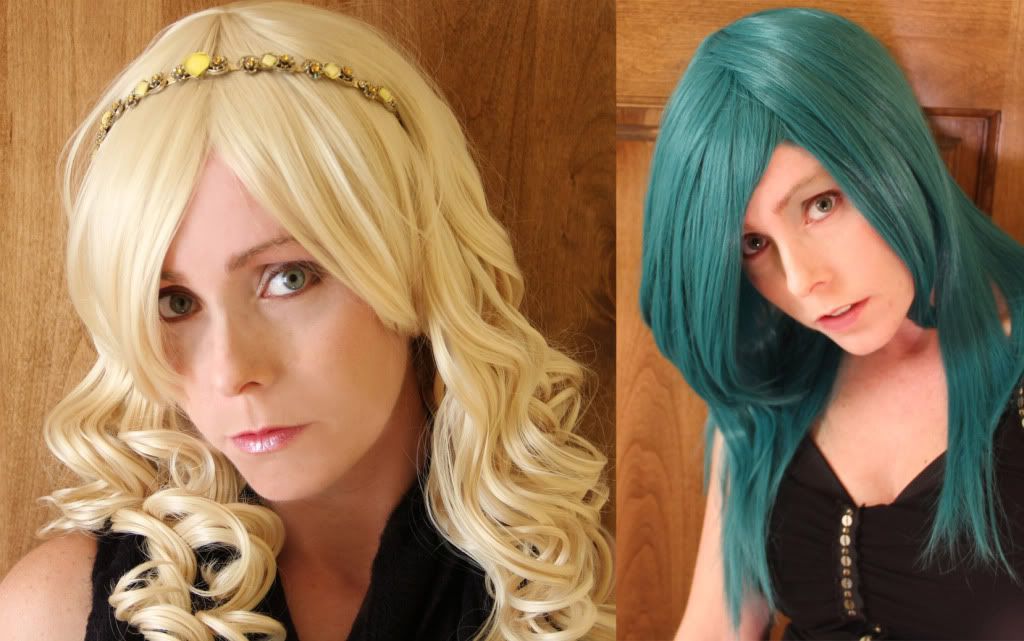 Can you tell us about your creative process?
I put on some music or maybe watch the suneset, or listen to the birds singing then ideas will start to pop into my head for colors and cuts. Inspiration is all around us, we just have to open our eyes and ears to really feel it.
I know from firsthand experience how ruthless the Etsian competition can be. How do you go about your day to day life as a business owner and try to ensure success?
The competition on Etsy is very fierce. I say to be a success on Etsy means finding a niche market, and staying true to yourself. To ensure success you also need new products and great photos.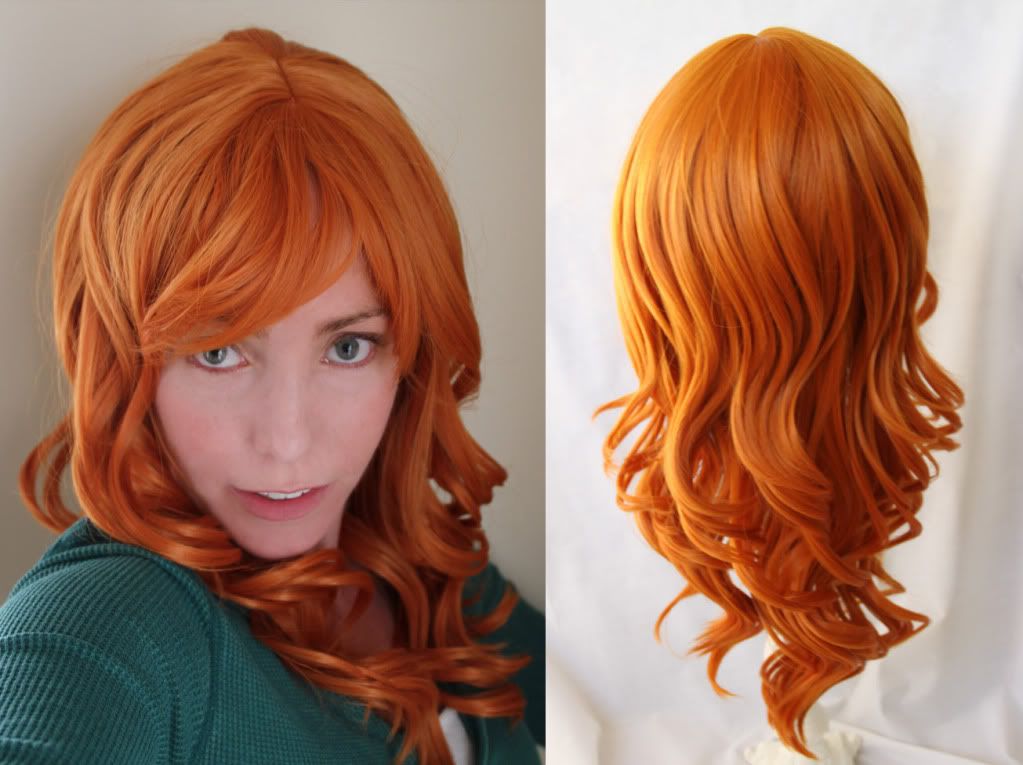 Do you currently have any other creative ventures in the works?
I am always up to something new! I am currently developing a website to see my wigs and other items on. Probably opening in the next few months.
Where would you like to see yourself and your business in 1 year? 3 years? 5 year?
1 year - I would like to just continue learning more about wig design and increase sales.
3-5 years- I would really like to see my wigs in the fashion world, perhaps print work.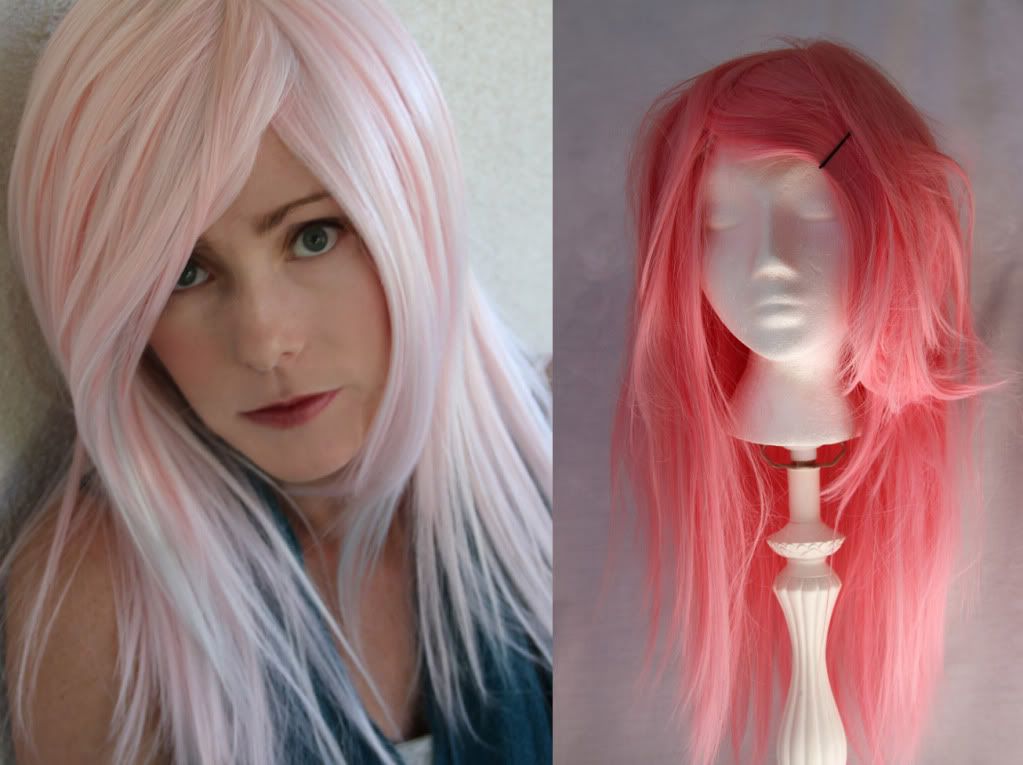 What is your ultimate career goal? Do you think having an Etsy shop will help you attain this?
My ultimate career goal is to continue my hearts passion to create art that makes me and others happy. I think having an Etsy shop is always a great way to create a following.
If you could give advice to anyone interested in starting their own Etsy, what would you say?
I would of course tell them to be patient. Sometimes it takes a long time to get those first sales. Stay true to yourself and be respectful to other sellers.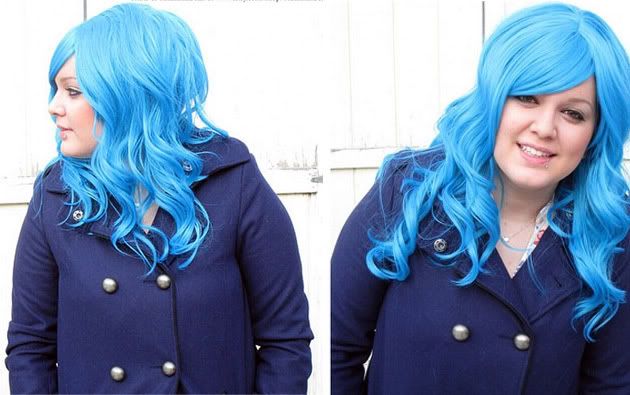 Some of you may have seen the photo that I tweeted/Instagram'd last night with my curly red hair... some of you may also be aware that I dyed my hair back dark last month (but have yet to share on the blog! I know! Soon, I promise!).. many of you asked if the red was back but not exactly... it's a wig though! Tiffany sent me this wig and it arrived yesterday so I haven't had a lot of time to play with it and really test out the quality and see if it'd tangle, frizz or if the curls would fall, but I can safely say that it's very very soft and the curls are beautiful. I like a lot of volume at the root so it was a little hard to tease simply because the hair is so silky and the curls are heavy, but just playing around with it for a bit I was able to get it to do exactly what I wanted. Tiffany says that all of her wigs are heat stylable but I haven't ventured in that arean yet either. I'm almost too intimidated to wear it! It's just so pretty! When I put it on for my mom and her friend to see, they both said it looked very natural! That's a good thing! I feel like a Disney princess in my red wig and it's nice to feel like I can still have my red hair that I loved without killing my natural hair in the process! Here are a few photos from today (nevermind the gloomy weather!). Check back tomorrow for more pictures from this fun little field shoot!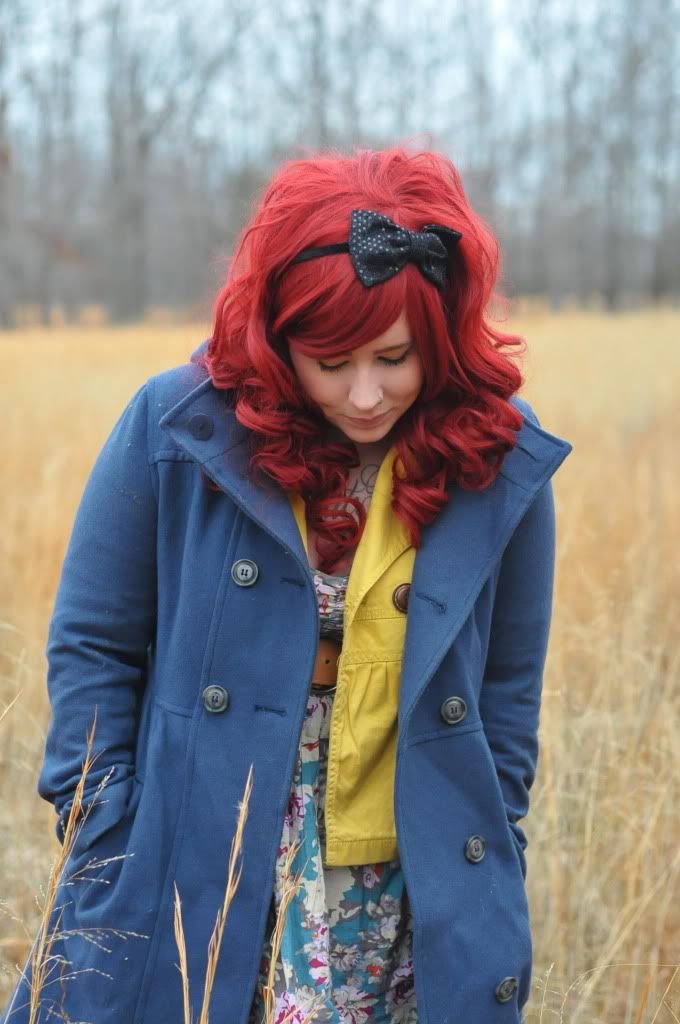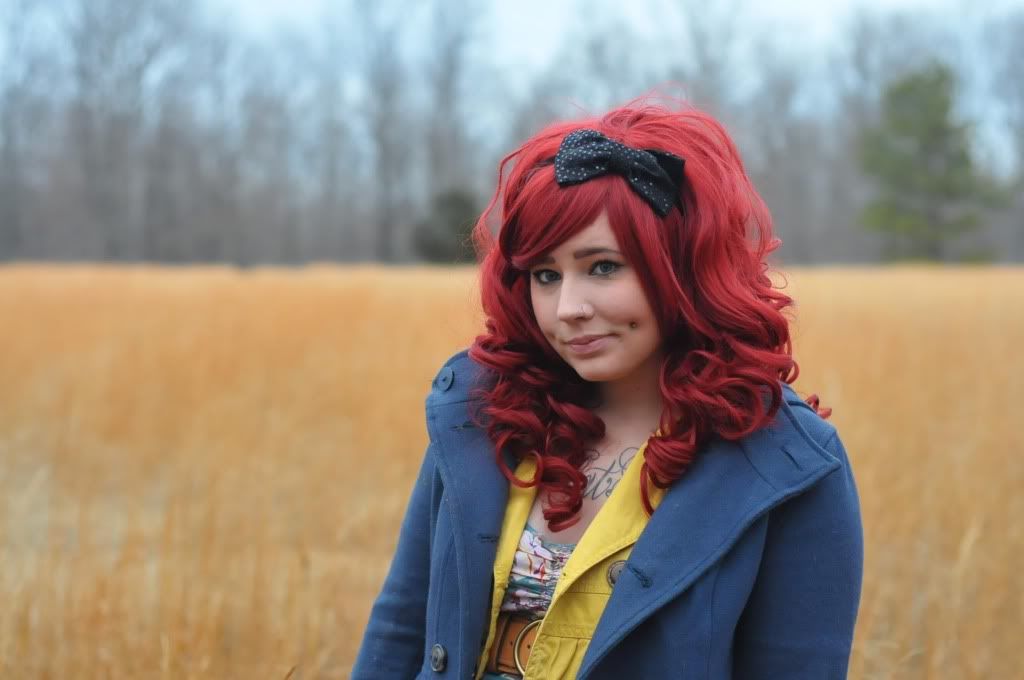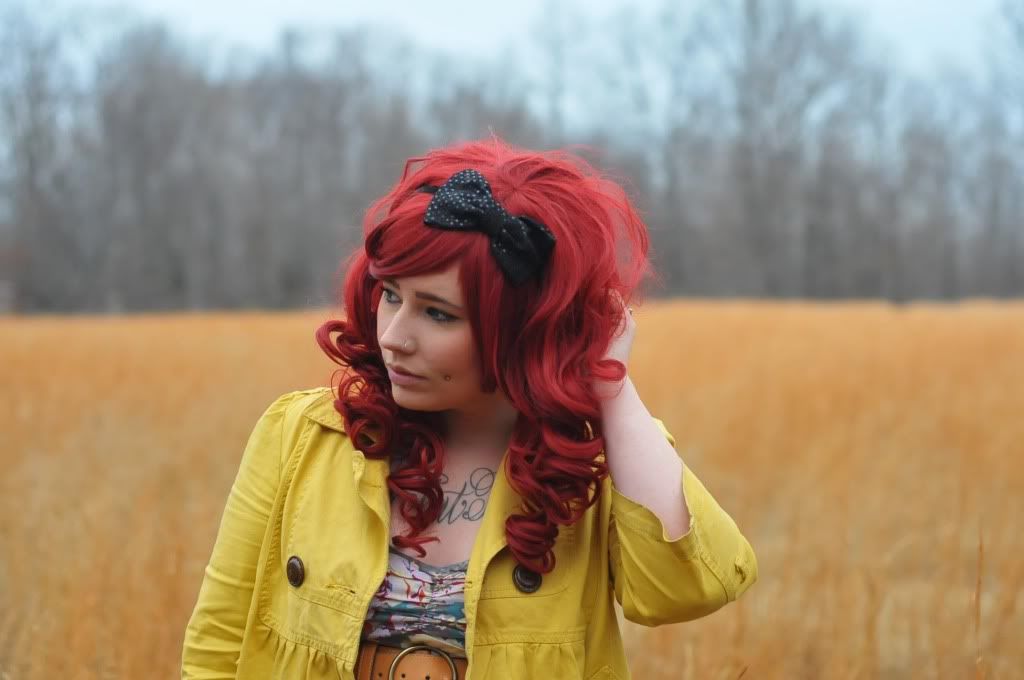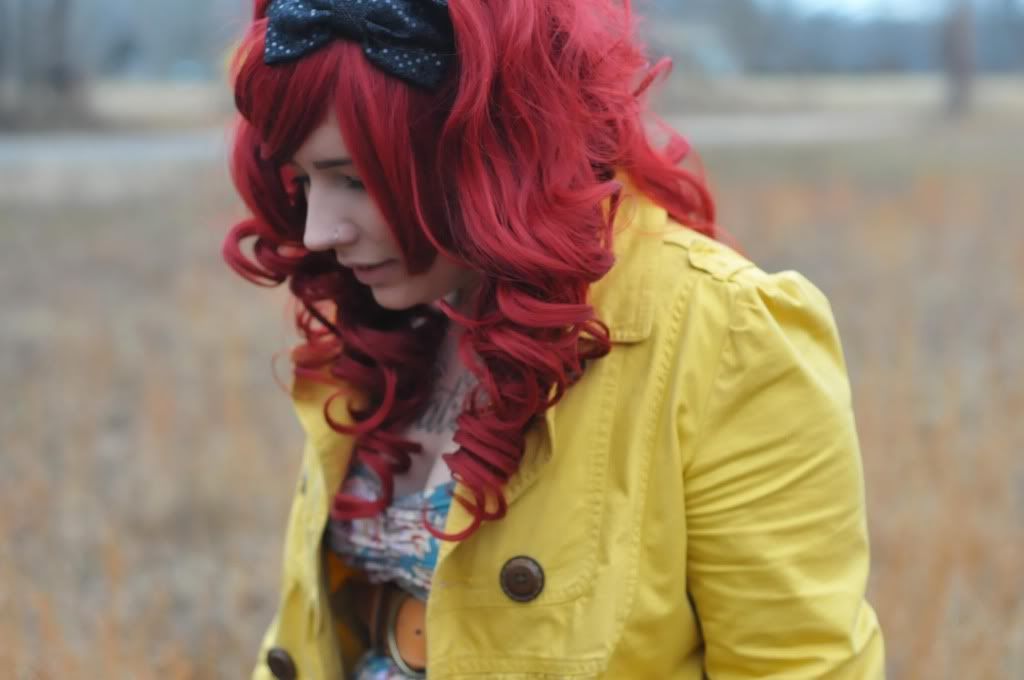 And the best part yet? Tiffany is offering up a $75 shop credit to her Etsy so you can pick out your favorite wig to sport about town! Check out how to enter below!
All you need to do to enter the giveaway is: Visit Tiffany's shop and leave a comment below with your favorite wig and what you'd wear it with/what you'd go do!
For additional entries,
Tweet about the giveaway and tag @tiffdemichele (include a link here such as this one: http://tinyurl.com/48zkq6m) Leave a comment below with a link to the tweet!
Follow @tiffdemichele on Twitter and leave a comment below saying so!
Become a Facebook Fan of TiffanyDeMichele and leave a comment below saying so!

Blog abou the giveaway and leave a link below!
A winner will be chosen via Random.org and announced on Saturday, February 12th! Good luck to everyone who enters!