When you are on the property ladder it is usually with the aim of climbing up it. The idea is that you start off with you can afford, earn money on your home by ading value and then sell to buy bigger or better until you reach yours forever home. To add value you need to complete renovation work in order to improve on the house you're living in. Whether it's adding an extension, creating an open plan living space, adding in modern appliances or making the necessary repairs to get it into a good work order, there is a number of different ways you can add the value you're looking for.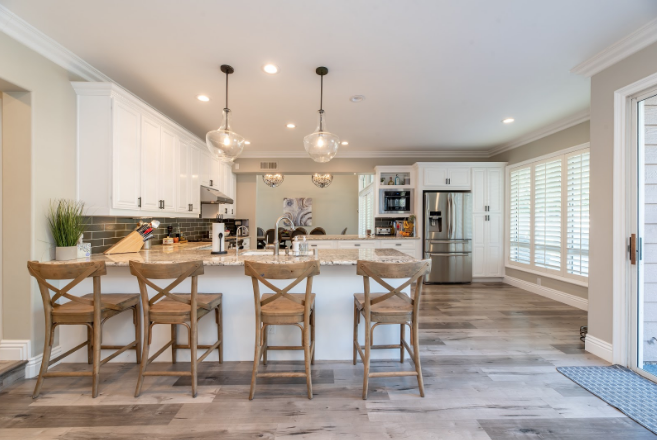 Let's have a look at some of the ways you can add value to your home and get yourself moving up the property ladder:
Repairs
When you buy a house it will depend on the age to whether there are repairs that need to be done. If you buy a new build or a relatively new home you will find that you are just playing the maintenance game, where you only need to keep on top of the standard that is already set, whereas, is you buy an older house chances are, there is some repairs that you do to get the house in tip-top condition. Looking at things like identifying any problems with mold, repairing plaster on the walls and replacing chipped flooring are good places to start. Have a walk through your home and jot down any repairs that need to be done and work your way through them to get your house looking presentable for any future buyers.
Creating More Space
Something that works really well for people looking to increase the value of their home is to create more space. This can't simply be done by having smaller furniture, however, you can create more space with small projects such as

built-in storage

in bedrooms and under the stairs. Some of the best ways to create more space in your home are to use a

residential general contractor

to add an extension, convert the loft or basement or renovate the downstairs by removing a wall and making it open plan.
Updating
Another great way of adding value is by focusing on the areas of the home that may need to be updated. Often buyers looking to purchase want to have a move-in ready home that they aren't going to have to spend a lot of money on in the first five years of their mortgage. This means that you can easily add value by completing updates to areas such as the windows and doors, the kitchen, the

bathroom

, and the

garden

landscape. Touching upon these areas can almost always enable you to improve the value of your house, especially when it comes to selling. Not to mention the money you may save on energy bills if you focus on adding in the latest energy efficient windows and doors.
These three methods should help you to add value to your home and enable you to move up the property ladder. Do you have any other ways that you can add to the comments below?